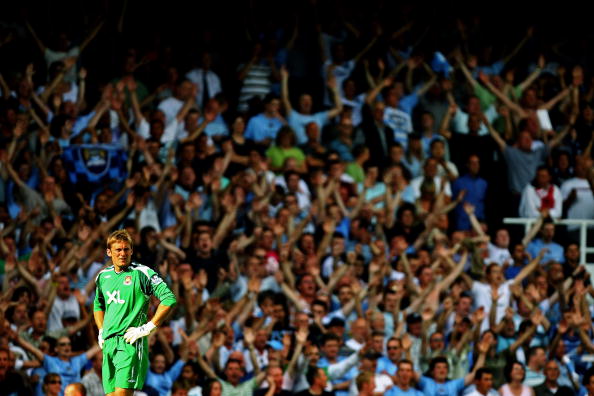 Mr. C has apparently found his life too insult-free during the international week and ponders why Manchester City, Everton, Liverpool and Tottenham fans are getting so riled up so early.
There are certain mystery's that revolve around our beautiful game that have the most ardent fans shaking their heads in despair. Whether it be Lampard playing for England, Curbishley being billed as a good coach or Everton still considering themselves a big club; it always amazes me some of the stupidity that comes out of some supporters or pundits.
5 games into the new season and apparently Liverpool are now the champions elect; Manchester City will challenge the top 4 and Everton after a solid start look like they are about to recreate their glory days of the 1930s…The football world has gone mad and its time for some supporters to wake up and smell the coffee.
There is an old saying in football that the league is a marathon and not a sprint and while Liverpool do look like finally challenging both Chelsea and Manchester United for the title; for the also ran's like Everton, Man City and Newcastle's of this world, their supporters should stop getting ideas above their station and accept that a top 8 or 6 finish is a more realistic goal.
So much drivel has been written on various message boards across the land and to think it's Spurs fans that are the ones deemed delusional. I nearly wrecked my lap top by spraying a mouthful of coffee over it when reading on a Toffee site that "Everton are only two years away from winning the title" and "Yakubu and Johnson are the best strike force in the Premiership".
I know beating Spurs was a wonderful achievement for Everton but talk of a title is somewhat premature considering not maybe only Mikel Arteta would get in our team let alone a one of the Big Four.
Manchester City forums there is plenty of talk that Sven is the messiah and it won't be long before they can match United. Do me a favour here, this whole scenario has the smacking of Spurs' appointment of Jacque Santini all over it; he had a team with 6 or 7 new faces and started the season like a train until a few defeats hit the side and the wagon firmly came off the rails. Sven is a good club manager but there is a hell of lot of work for him and their dodgy chairman to sort out before they can achieve the top 6 let alone the top 4. Where do supporters get their ideas from? Haven't you been following football enough to realise that the business end of a season is April and May, not August? I know its nice to be a romantic and have such dreams but do yourself a favour and take a hard look at your club and realise there isn't a cat in hells chance of you achieving anything this season.
Last season was a real eye opener for me and to be honest that is the reason I have no concerns about Tottenham's poor start to the season. We cruised into 5th place last year with relative ease; considering we didn't play very well, lost games in bunches and conceded like little girls. This is why the likes of Mourinho are predicting that Tottenham will make the step up and make it a top 5 not 4. He realises the potential and sees that we didn't have to get out of first gear to achieve 5th last year.
There is plenty of work left for Tottenham to do but with finally all our injuries clearing up we can start to get our season up and running. Don't worry, City and Everton fans, I'm sure one of us top 5 clubs will win a Carling or FA cup and release some extra UEFA places for your teams to fight over.