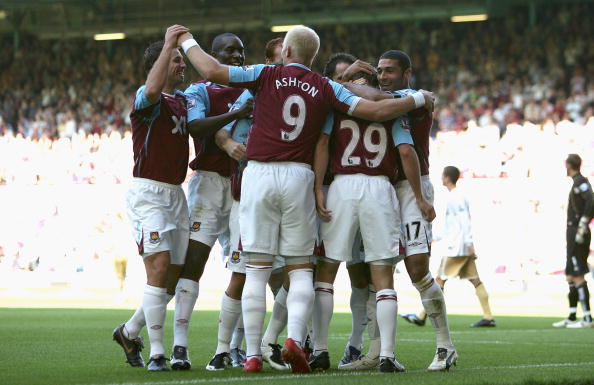 Effra is finding West Ham's glimmer of light quite enjoyable.
No West Ham fan should get carried away with our lofty position in the table. After all we have played none of the big four, only Manchester City have put in a decent performance against us, and our game in hand is at Anfield. Portsmouth, by contrast have only four fewer points having already played all the top clubs and taken two points off them. We also seriously rode our luck on Saturday.
Playing offside that incompetently – whether thanks to Lucas Neill's jetlag or James Collins' desire to wave his arms rather than follow his man, I am not sure – could have led to complete embarrassment. Yet somehow after a weekend in which we lost our best striker within the first 15 minutes, saw once again that Dean Ashton is some way off match fitness, had our fifth-choice striker provide two assists, and our fourth choice right-sided midfield player score the first goal, we are for the moment up to 5th. Even more perversely, our most effective players this season, Rob Green aside, have all been players at least half of Upton Park had written off, or never wanted in the first place.
Craig Bellamy was hardly most fans' idea of a replacement for Tevez, we all thought Bowyer's legs had gone after some dreadful performances at the end of last season and a shocking one at the start of this against Manchester City, and we assumed Matty Etherington was on Curbishley's summer-chop list with his old gambling buddies. Best of all though is Haydon Mullin's resurgence. Seriously under-appreciated by most fans during our 2005-6 adventure through dream world, he was probably the only one of the Bentley Boys whose form held up reasonably well through the last days of Pardew's descent into the abyss, only to lose his way completely immediately Curbishley arrived.
Yet on Saturday, playing because yet another of our big-money signings is on the treatment table, he was the best player on the pitch, breaking things up and passing it on intelligently. Think about it. If everything had gone to the letter of Magnusson's master plan last July, we would today have misfiring Darren Bent, not bothered with Bellamy, and packed Mullins off for a reunion with Pardew at Charlton.
And we would have been £10 million worse off. That our fortune is a small part of the story of Spurs' problems, just makes it all that much more sweeter.