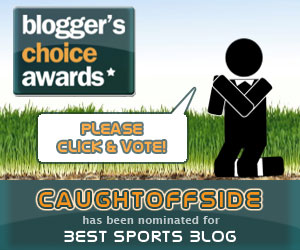 Just a small favour to ask, and it will only take a couple minutes of your time so please keep reading.
Hot on the heels of our win at the Ask.com & Metro UK Best of British Blog Awards, CaughtOffside has been nominated for Best Sports Blog (and a few other lesser categories) at the Blogger's Choice Awards.
So if you do enjoy what we do here, we'd greatly appreciate it if you take a minute to head over and vote. Right now we're not too far off the top spot in the voting, and any little bit helps. Voting ends October 19th so please get your votes in as soon as you can.
Much appreciated, and thanks for reading.
The CaughtOffside Team
P.S. Any "You're nominated? How crap were the other sites!?" jokes should be left in the comments.