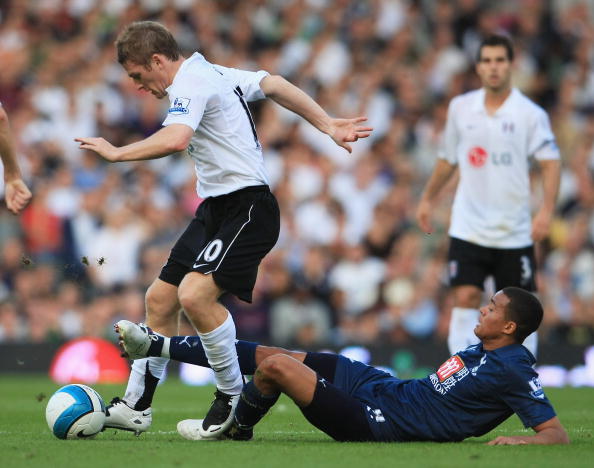 If you asked Premiership fans who be in the list of the league's top five tacklers, most wouldn't say Jermaine Jenas and Steed Malbranque but according to Opta they sit happily in positions #1 and #3 with Aston Villa's Nigel Reo Coker happily in between. Interstingly, not a single Blackburn player in the top five which is either because they aren't as rough as some think, or elbowing someone in the face doesn't count as a "tackle".
Tacklers
Team
Tackles
Success rate
 
 
 
 
Jenas
Tottenham
31
68%
 
 
 
 
Reo-Coker
Aston Villa
27
74%
 
 
 
 
Malbranque
Tottenham
26
81%
 
 
 
 
Clichy
Arsenal
24
96%
 
 
 
 
Bikey
Reading
24
92%
And yes we all know that statistics don't tell the whole story, but they tell part of it. The fact that Jenas and Malbranque have such a high number of tackles and such a low percentage of success indicates that the Spurs midfield spends much of the game chasing shadows. Sounds about right. Even more worrying is that Jenas has responsibilty to protect Tottenham's defense and losing out on 32% of your tackles isn't the way to do that.
More impressive is the fact that Gael Clichy, given plenty of credit for his fantastic surges down the left wing in support of the attack, has won 96% of his tackles.
96%, that's almost the rate at which incredibly beautiful women throw themselves at us.