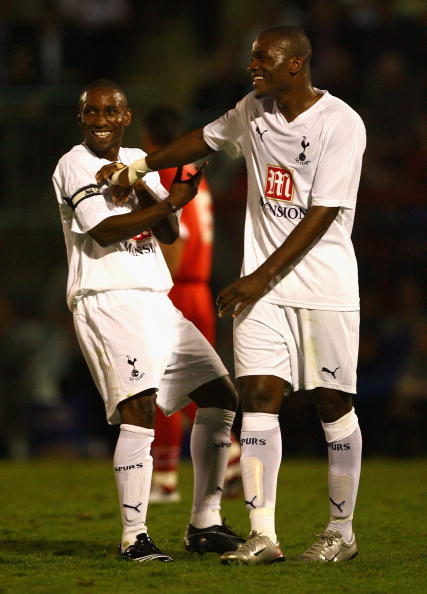 Mr. C doesn't blame JD for wanting out, if he wants out, which he claims he doesn't… but probably does.
There must come a time as a footballer when you can only take so much from a coach; one who constantly contradicts himself and then chooses to publicly slate you just to take a bit of pressure off him self.
Nobody knows what really went on at the training ground on Friday afternoon but if you want to believe press reports that Jol told Defoe "he can rot in the reserves if he doesn't sign a new contract" then I hope Jermain afforded himself a wry smile and maybe a little chuckle at a man who is hanging onto his job by a thread, and thought "Whatever fat man…I will still be here in January…how about you"?
Someone tell me why the hell Jermain Defoe should sign a new contract? I don't think a Spurs player has been so shoddily treated in the last 20 years I have been following the club. The player is a class act who only managed 19 goals last season; not bad return from a bit part player who is constantly overlooked for the first team in favour of the odd 10-15mins here and there. You tell me one top striker in the country that would happily settle for sitting on the bench over the last couple of years?
Martin Jol has always claimed that he will rotate his strikers if they are in and out of form. Well Mr Jol being that Robbie Keane hasn't scored in any of the 6 games this season why he is still in the starting line up? Are you paying for the disastrous decision in making him vice captain so you have to play him?
You ask a defender who you would rather play against Defoe or Keane and it would take long for a damning statistic against Jol's selection. Don't get me wrong I like Robbie Keane but he is hardly strikes the fear of god in the opposition like Defoe does.
No doubt Spurs fans will rant on that Defoe is lazy but excuse me if I'm wrong why does a striker need to get involved in midfield and link up play? He is paid to put the ball in the net. Give Jermain a chance and very few don't hit the target; I wish I could say the same of all our strikers; some need 3 or 4 chances to hit the target let alone score a goal.
Certain players in this world have the ability to come off the bench and change the game and there are those who need to be starting otherwise they can't build up any rhythm. Keane is one of the few players who has the ability to come off the bench and can make that sort of impact; Jermain isn't and that is why I'm always baffled why Keane always starts.
Dimitar Berbatov has said recently in a Bulgarian magazine that his ideal strike partner is one who plays off his shoulder and beyond…you don't have to be Einstein to work out who he would rather play alongside.
Jermain Defoe has shown the club ridiculous loyalty in staying at the club after 3 years as a bit part player. His ability deserves more and we as supporters have been robbed off his talent for far too long. He more than anyone, has the right to stall over a new contract considering the poor treatment he has received. Hopefully it wont be long before the board show a bit more strength in their conviction and rid of a man who once again proved on Saturday what a tactically naïve manager he is.