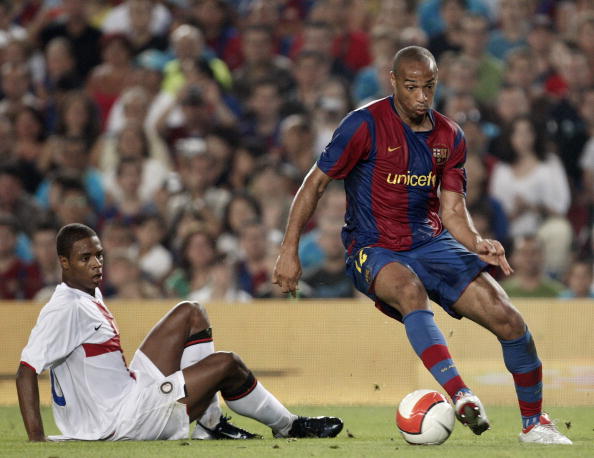 Sportingo.com's Joe Baker finds himself seeing the light after wallowing in self pity, presumably turning to the bottle and perhaps a bit of happy-slapping.

Admit it. We were all stunned and disappointed and most of us were pretty apprehensive the moment we realized that our French goal-scoring machine, Monsieur TH14, was leaving for the Nou Camp.
They say that everyone remembers the day that JFK was assassinated, even those who were born post 1963 seem to have some vague recollection of that fateful day. Well, I remember the day I read that King Henry was finally quitting his goal-den throne at Chez Emirates.
There were mutterings over the weekend prior to the actual sale on Monday, July 25, which I then marked by joining some other desperate Gooners in a North London pub. We raised a toast and recalled and regaled until the small hours. The landlord, also an Arsenal fan, decided a lock-in was a suitable way to mark the occasion, as though this was some kind of wake. Everyone in the place was a little unsure of what would happen to the club without the legendary man to count for his touch, turn, tremendous vision, terrifying pace and tasty finishing.
Sure we knew that we were not a one-man club, but let's face it, there were times during his tenure at the club when we were indebted to his 20-plus goals, season in and season out. We knew that we had a mountain of talent to draw on and a manager with a plan that has, to date, not let us down. However, I know for a fact that in that pub many had thoughts of disaster. Yes, these thoughts were more than slightly influenced by their alcohol intake, and that this season, and indeed the next few to come, would see us doing the unthinkable, no not missing out on a top four finish, but more importantly falling behind that team down the road, you know that team – Tottenham.
I know we are only a few weeks into the new season but I think that most doubters have seen the light and in some ways we are a better team without the mercurial talisman that was Henry. We are unbeaten, we have won when we haven't deserved to, apparently a clichéd sign of a prospective title winning side. We have also won with style, and I think the icing on the early season cake will be on Saturday when we take on that team, you know, the one I mentioned earlier, the one that plays at White Hart Lane
For a few days after his departure, I watched Henry's greatest moments on a DVD, amusingly handed to me by a smug Spurs fan who happens to be one of my best friends. To be fair, we met when I was 12 and therefore I didn't know better. I marveled at each and every moment that made up the bricks that, when added together, created the monument to the club that is Thierry Henry. They somehow looked less spectacular than when I had sat at Highbury and other locations around Europe where I followed him and the team. That goal against Inter, the one when he embarrassed a whole host of world class defenders as though they were schoolboys by comparison.
Now it's been six weeks since he left, and it's like the moment of realization after a relationship comes to an end. After the weeks of doubt and regret comes the point when you realize that life goes on and that the life that does go on is, in fact, at once both scary and exciting. I have vowed never to play that DVD again, or indeed wander on to youtube or other sites that could show me just how great Thierry, Arsenal and I were together.
I will remember the moments as and when I choose, maybe the next time Robin van Persie fires one from 20 yards or Cesc Fabregas eases past a lunging challenge. Maybe then I will allow myself to think, that's what TH14 used to do, back in the day when he was an Arsenal man. He's moved on now and its time we did also, gone but not forgotten.