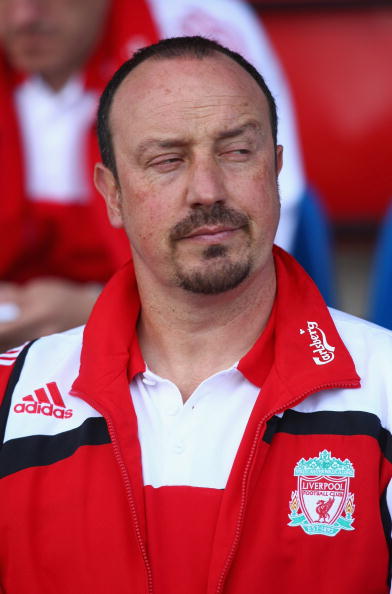 Edward takes a look at some curious decisions Rafa Benitez has been making in order to challenge Manchester United, Arsenal and Chelsea.
Is Rafa completely and utterly losing the plot? Whilst the ugly growth on his chin points to a mid-life crisis, there are lots of other pieces of evidence that this man does not respond well to the tense Premier League cauldron. I have compiled a dossier of my own on this Spaniard with a penchant for complaining.
1.Facial Hair
Big problems there – trying to mask his lack of charisma behind a furry chin ornament is as inadvisable as getting rid of his link to the players, Pako Aysteran.
2.His defensive retorts to Allardyce
Rafa's defensive retorts to Big Sam's blustering comments that Rafa wouldn't be in a job if it hadn't been for Liverpool's European form show that Sam hit a nerve with his criticisms..
3.Turning bitter in his old age.
Rafa is getting his excuses in nice and early, registering a "them against us" position after only a handful of games, and compiling a dossier of slights Liverpool have been dealt in the form of fixtures. This comes hot on the heels of Benitez' claims that he would go to the authorities over the Heinze affair, and more recently he has threatened his ex-assistant manager Pako Ayesteran with legal action if he went to Chelsea or Arsenal.
4. He gets rid of Assistant Coach Pako Ayesteran.
This was a BIG mistake. Having appointed Paco de Miguel as a fitness coach and Ángel Vales as head of technical analysis in the summer, assistant coach Pako Ayesteran's claims that he had been squashed out of his job look to be bang on. The sacking of Ayesteran still looks silly as he is a vital conduit to the team, not just a physical trainer. It seems that Rafa had a personality-bypass along with his goatee, he doesn't take training nor is he vocal with his players. According to Guileme Balague, Pako Ayesteran is not only probably the best physical trainer in the world, he is…
"Also the man who says 'no' to Rafa…He is the good policeman…He develops relationships with the players that Rafa Benitez is not willing (to)…he is not interested at all in building up these relationships."
Steven Gerrard also feels this way, saying in his autobiography that he has no relationship with Rafa Benitez beyond the professional sphere. Man management isn't Rafa's style, his players are pawns to him, Pako was needed for the human touch; as Jamie Carragher attested in his interview with The Game.
Carragher said:
"I got on great with Pako…he helped me a lot in what I've achieved over the last couple of years…He's been with the manager for a long time now and they had a great relationship….and I don't think anyone saw it coming…The manager likes to keep his distance from the players."
5.His comments relating to Mourinho
Could another reason for Rafa's split with Pako be that Ayesteran had an excellent relationship with The Special One, to which Rafa behaved like a jealous lover.
Arsene and Sir Fergie's responses showed class, Rafa's showed arsines. He's lost a sparring partner, but compared to Alex Ferguson's light hearted response, Rafa's shows a distinct lack of class & humour, he's a Spanish sourpuss.
"Jose leaving is a disappointment for the game. I think that he was terrific for football and, of course, for Chelsea. I enjoyed the competition with him and I think he brought something fresh and new to our game. I just don't know what I'm going to do with my wine now!"
"It is basically sad because I feel Mourinho is a manager of quality..I am a great believer in technical stability and therefore I don't think it is good news for football…"We didn't get on the best but recently it has become better.That does not hide the fact I respected what he did and the quality of his work."
Rafa:
"You know my relationship with him, it is better that I do not say anything."
Is this someone who can dish it but not take it? We all know the type, the ultra defensive kid in the schoolyard, the flat track bully who can tease all and sundry but will accept not even a smidgen of criticism coming his way.
He also seems bizarrely intent on litigation to win his victories, firstly to get them back in the Champions League, Then over the Heinze affair, then to the Premier League with regards to fixtures, and also veiled threats to his former trusted lieutenant Pako Aysteran.
Rafa's backroom staff that he came to Liverpool with has now entirely gone, Gerard Houllier's results started going south after he got rid of his staff, can we expect the same from Rafa?
And now mid-life crisis Rafa is stumbling off into the wilderness by himself, declaring that he doesn't need a number two and that he won't replace Pako. (Ayesteran has been with Rafa since his days at Tenerife)… This is a dangerous choice for Benitez and forget about Torres et al, this could be the biggest factor in how Liverpool's season pans out.