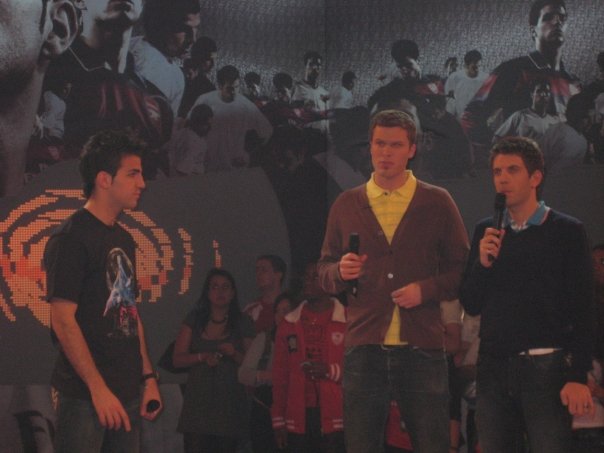 One lucky COS reader attended the filming of The Cesc Fabregas Show on Tuesday and, according to Alim Kabia, it didn't disappoint. The Nike-sponsored event, which will be shown on Sky Sports 1 next Monday, featured the Arsenal midfielder talking about his footballing career up to now and showing off his silky skills, both with a football and on Pro Evolution Soccer.
According to Alim:
"The Cesc show was fantastic, energetic and very classy. Sometimes it is difficult to get professional footballers out of their comfort zone but he was different and another part of his personal life was known. It was also good to get first hand info about Arsene Wenger's recruitment policy and how his instincts about Cesc was on the money. it would be wonderful if Arsenal could hold on to Cesc and keep him at Arsenal for the long-term. Thanks to the organisers for a fantastic show."
Alim and the other fans in attendance chanted "We've got Cesc Fabregas" as the Spanish midfielder took to the floor, before the star was quizzed about his childhood days at Barcelona and the switch over to Arsenal FC. Cesc's parents, sister and girlfriend were in attendance, along with Gunners manager Arsene Wenger, who was told to sign David Villa by sections of the crowd. Fabregas also appeared to endorse this view.
Fab4 also treated his fans to some excellent ball control, as well as beating a competition winner at Pro-Ev soccer. Everyone there also won an Arsenal shirt after the player successfully headed the ball through a hole in the wall, resulting in Fabregas being mobbed in adulation.
Check out the Sky website to see further details of the show, it's well worth checking out.
More photos below: