We've all played FM and other manager games. But we haven't played them for free, and we haven't played them at work. Enter Online Football Manager…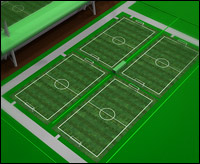 In Online Football Manager, you can enter football leagues from all over the world, take control of your favourite team, and compete with 100,000 football fans from around the world. Tactics, transfers, everything is there for you to take control of.
It's completely free, all you have to do is sign up, choose your league and team, and make your decisions. Every night a match is played, and based on the results you can choose to adapt your tactics. Is your next opponent FC Barcelona? Playing it safe might be wise. Aggressive tactics may do better against teams with a weak defence, but is it worth the risk of injuries and suspensions? You be the judge.
While logging in daily is not necessary, doing so will let you take quick actions such as buying newly available players, replacing players who have become exhausted and need to rest, and giving bench players a chance to shine to increase their morale. If all else fails, you can even put your team through a special training camp to give them the boost they need to be victorious.
Signing up for Online Football Manager is completely free,