There's always a fantastic excitement when you get new boots and thanks to the folks over at SoccerPro.com I spent this past weekend drooling over the Adidas AdiPure TRX Firm Ground boots. And there was literally drool all over the leather, it was disgusting. The AdiPure line is Adidas' return to classic styling ala the legendary Copa Mundial's that pretty much everyone wore back in the day. These days, it's the likes of Kaka and Robin Van Persie who lace them up.
Unboxing new football boots is a sacred process that should be cherished. I take it very seriously, and the whole process can take upwards of an hour and both I and my family and friends wish I was kidding. I'll also be reporting on how they feel next week after I can give them a run out.
So on to my four steps of the unboxing process – The Box, The Boots, The Smell (Yes) and The Wear.
The Box:
Your standard Adidas stuff. Black box, three white stripes. Classic design just as the boot promised to be. Has some message from Robin Van Persie on the inside that I can't read, what a great guy!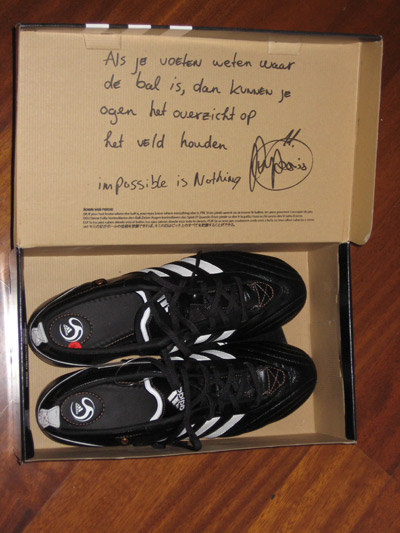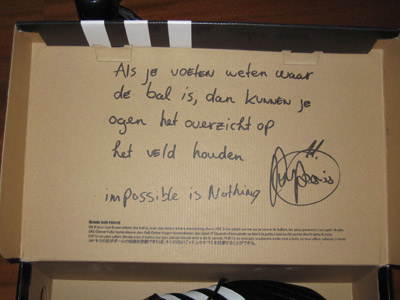 The Boots:
Very sexy stuff. As fashion moves towards 'retro' looks, you can't go wrong with a beautifully classic boot with quality materials and construction. They look outstanding and I'm glad I got the black, getting these boots in white completely ignores the whole point behind their creation. There's a lovely sheen to them as well that enhances some natural creasing in the leather that gives it a very worn look. Good stuff.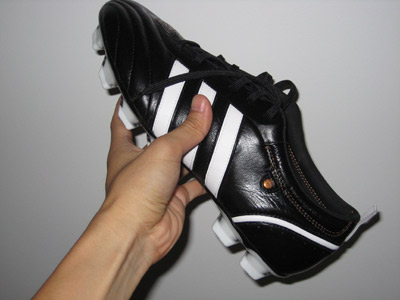 The Smell:
Exquisite. Smelling new trainers is disturbingly one of my favourite things in the world, and it's especially satisfying with football boots considering just how short-lived that scent will be. These smell excellent, you can't beat quality leather and after 20 minutes of inhaling deeply I am feeling rather light headed.
The Wear:
Snug, just the way football boots should be. The kangaroo leather means the surface is soft while the EVA sockliner keeps the fit tight. There's also the 'adiPrene' heel insert that's meant to make things more comfortable, but I can't tell any difference right now. I'll have to give them a good run out and see how my feet feel (which will be reported in next week's write up). They feel very light and soft, so I'm predicting a great touch.
Overall, I'm very excited to give these a run out and will be reporting back on their playability next week. The Adidas AdiPure boots are available at SoccerPro.com right now.