Truly inspired clothing item based on the well worn Harry Redknapp mantra!
If I was a Tottenham fan I would want of these, in fact even though I am not a fan I would consider buying it for my Spurs fan friends, well maybe I have gone to far on that point, but you get my drift.
CLICK HERE to see the shirt in all it's glory!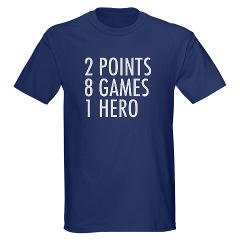 Created by the guys at Studs-up, who are indeed lifelong Tottenham fans, it's a treat you can't pass up.
I have it on good authority that Harry Redknapp himself has purchased two himself and has one framed above his mantelpiece and wears the other one to bed…and nothing else!
But seriously it's a shirt you can wear with pride or to remind yourselves of the right old pickle Juande Ramos put you in before Mr Twitchy came into town!