Is this the final straw of oh so many straws? Has the Camel been crippled?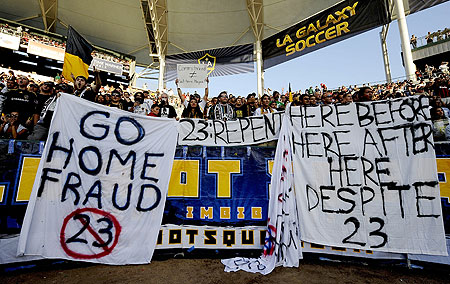 David Beckham got involved in an ugly confrontation with fans at his home return game in Los Angeles.

The former England captain attempted to jump over a barrier as he left the field at half-time to remonstrate with a section of the crowd that had been jeering him.

He was held back by security staff, members of whom were also needed to restrain an angry fan who left his seat and rushed towards the footballer.

A hardcore section of the crowd booed Beckham every time he touched the ball and held aloft signs reading "Go Home Fraud" and "23: Repent" in reference to his shirt number.

Another read: "Hey Becks, Here Before You, Here after You, Here Despite You" while one stated: "Is evil something u are…or something u do?"

Beckham was substituted in the 75th minute and walked off to a mixture of cheers and boos. The friendly match ended 2-2.

Beckham claimed he had tried to shake a supporter's hand.

"The majority of the fans have been great," Beckham said afterwards in comments broadcast on Sky Sports News.

On the boos, he added: "It's to be expected. Sometimes it goes beyond it. I tried to shake one of the guy's hands but he didn't want any of it. That's the way it is."
Some fans later accused Beckham of betraying the club.

Ricardo Vigil, 28, from Los Angeles, said:

"We boo a lot of players – they don't come out and challenge our guys. We're just here as fans.

"I don't think he wants to be here, I think he should go." (Daily Mirror)
So Beckham now realises that no amount of claiming "I have nothing to apologize for" can get him out of this pickle. You reap what you sew and the former Man United and Real Madrid man should know better than to even try to calm a situation in the heat of the battle.
He was getting abuse from some of the club's fans, and rightly so, he should have just shut up and got on with his job. He should know better. The LA Galaxy fans have every right to make it abundantly clear that they are not happy with the way he has behaved in the past year and apart from anything else on the pitch itself the England international hasn't exactly covered himself in pride.
If he just gets on with things and appears to show his heart and determination to help his MLS side to move upwards then in time some of the bitterness that has been directed at him will dissipate, not all, but some. Now however his attempts to either placate the issue or remonstrate with his club's own supporters may well be the final nail in his US footballing career coffin, hell that may be why he did it in the first place! However I don't credit the midfielder with enough intelligence to deliberately try to force his way from the club in this manner.
So what now for brand Beckham stateside? Well it's looking very choppy right now and it's hard to see how things can be redressed because essentially however you dress up the issue, he wan't out of the league that helped resurrect his career. In many ways if he had come out and stated "Look I am sorry but it turns out I think I am good enough to still play in Europe and these Idiots at AC Milan seem to want to offer me a deal so I am outta here" Then at least he would be seen to be honest, a shitheel, but honest.
Now he looks like he stumbling from one PR disaster to another! And to cap it all off he has to go home to his plastic wife who's own, for want of a better word, singing career seems to have run it's course and now spends her time pouting like some kind of starved Catfish for the few remaining Paparazzi who give a damn.