Rafa will only consider sale if midfielder pushes for Real Madrid move.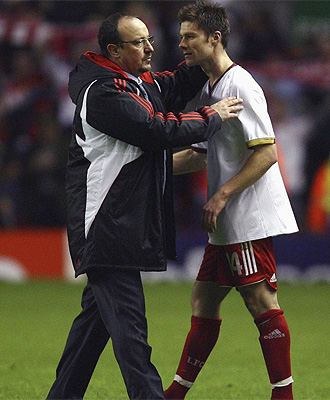 Rafa Benitez has told Xabi Alonso he must demand to leave Liverpool if he wants his dream move to Real Madrid.

Benitez does not want to risk a backlash from fans by selling the popular Alonso for less than his £32million asking price, unless the midfielder says he wants to go.

Real are refusing to budge on their £24m offer.

Benitez is keen to resolve Alonso's transfer saga as soon as possible.

With the new season looming, the Spaniard does not want to have to wait much longer to bring in a replacement for Alonso if he decides to go. (Daily Mirror)
This is a clever move by Rafa and is similar to the way Carlo Ancelotti dealt with the John Terry and Man City speculation. Benitez doesn't want to lose the Spanish international and is keen that the club doesn't find itself looking like they are sanctioning the move so therefore they are putting the onus of Xabi to make the first move.
If Alonso then demands the move, up to now he has been pretty good at sitting on the fence and cleverly not getting involved, then the Liverpool boss can then push on with the financial side of such a move, which may or may not involve Real Madrid playing their usual mind games.
Clearly financial issues at Anfield are going to play a part in any deal that follows Xabi's decision making and it would be silly to suggest otherwise. The club does have debts but the fans will not be happy to see a sale followed by a lack of activity on the transfer market.
It does seem the waiting game is beginning to speed up a little.
Get a free £10 bet on Liverpool by joining William Hill now.