Time for the men at UEFA to play with their balls!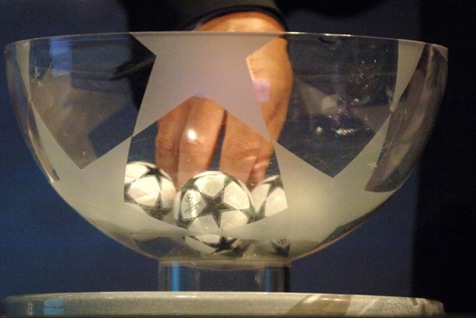 So we are hours away from the draw for the group stage of the UEFA Champions League, who would you like your side to get? I have a sneaking suspicion that Man United get Real Madrid, and get to come up against Cristiano Ronaldo, and by sneaking suspicion I really mean, Please god let it happen!
Here are the seedings.
Pot one
Barcelona
CHELSEA
LIVERPOOL
MANCHESTER UNITED
AC Milan
ARSENAL
Sevilla
Bayern Munich
Pot Two
Lyon
Inter Milan
Real Madrid
CSKA Moscow
Porto
AZ Alkmaar
Juventus
RANGERS
Pot Three
Olympiakos
Marseille
Dinamo Kiev
Stuttgart
Fiorentina
Atletico Madrid
Bordeaux
Besiktas
Pot Four
Wolfsburg
Standard Liege
Maccabi Haifa
FC Zurich
Rubin Kazan
Unirea Urziceni
APOEL Nicosia
Debrecen