What?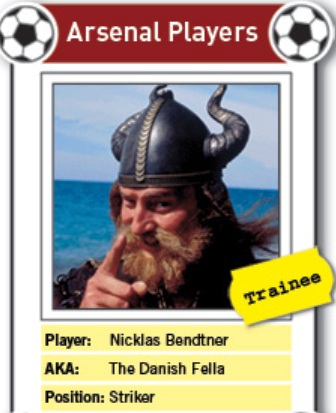 Thomas Bendtner, the agent and father of Arsenal striker Nicklas, has claimed his son turned down the chance to move to several clubs this summer to remain in north London.

The Dane signed a new long-term contract with the Gunners this week, securing his future at the Emirates Stadium.

The 21-year-old had been linked with moves to Barcelona, Inter and Bayern Munich over the summer, with his father's comments serving to fuel speculation that Europe's superpowers were set to move for the player.

"Many clubs wanted to sign Nicklas, and some of them are among the biggest clubs in the world," Bendtner Snr. said, according to the Daily Mirror.

"It would have been very easy to find a new, great club for him, and when the biggest clubs join in, then it is really flattering for Nicklas. But still Nicklas was never in doubt, that what he wanted the most was to stay in Arsenal.

He continued, "He is so happy for his new contract, and the most important thing is that he, in Arsene Wenger, has a manager who shows him a lot of confidence.

"Wenger gives Nicklas space and time to develop both as a person and a player, and that is really unique on football's top level. Nicklas feels it is ideal for him to stay in Arsenal." (Goal.com)
Now I would be the first to say that Nicklas Bendtner has improved dramatically and has proven a great many doubters wrong about his abilities as a footballer, but could his father really be referring to Barcelona when talking about his son turning down a move to 'the biggest clubs in the world'? Is that the club he is referring to?
Hell, I know AC Milan were reportedly interested but they are far from one of the biggest clubs in the world anymore, anyone who witnessed their 4-0 opening day defeat in the Milan derby can attest to that.
I am glad either way that the Dane stayed put. His new role out wide seems to be working just fine and he gives more to the team than the striker who used to come on for 20 minutes and drag shots wide when through on goal.
As for having a father as an agent, I am not so sure that's such a good idea!