Woe is me!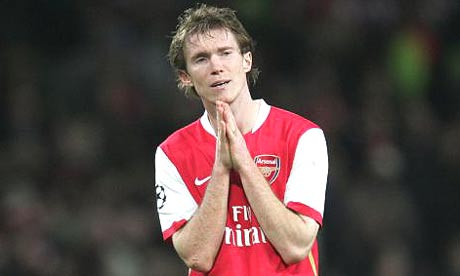 Alex Hleb claims that his move to Stuttgart from Barcelona is a backward step in his career.

The Belarus international has joined the Bundesliga side on a season-long loan after struggling to break into the first team at the Spanish club during his debut season in La Liga.

"It's true that I have taken a step back in my career, but sometimes it's necessary to take one step back to take two steps forward. Let's see how the season goes," explained the former Arsenal midfielder.

"It was hard to resign myself to not getting game time, but if the team wins every game, how can you complain to the coach?"

Hleb spent five years with Stuttgart before joining Arsenal in 2005. (Independent)
Mr. Hleb has spent the best part of a year telling anyone who will listen that he made a mistake when he sought to leave the Emirates. The problem is, we all told him that at the time, so are not that interested in his latest cry baby fest.
To be fair to the Belorussian his departure was infinitely less irritating than that of Mathieu Flamini and indeed more recently Emmanuel Adebayor, and when Hleb was on top form he was a joy to watch. Who knows perhaps he will one day return to the club but until then could someone please ask him to stop moaning!