Free at last.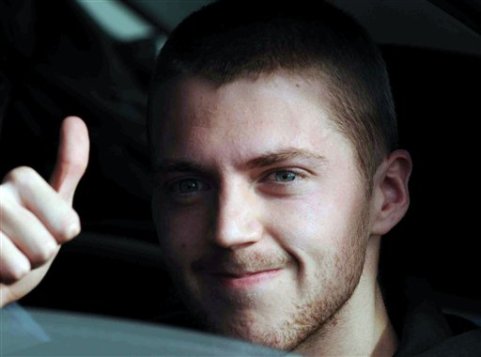 Freed Liverpool fan Michael Shields today paid tribute to the Merseyside football fans who helped secure his release.
The 22-year old was sentenced to 10 years in prison in Bulgaria for an attack on a barman in 2005, but has always maintained his innocence. Supporters have campaigned tirelessly to clear his name.

Michael was finally released today following a pardon by Justice Secretary Jack Straw, and told reporters: "I would like to say a massive thank-you to all the people out there, including Liverpool and Everton fans, in support of me and my family over the last four years by writing letters, protesting and marching.

"Your voices were heard. Thanks to you, I knew I'd never walk alone.

"My family have stood by me every step of the way. I would not have made it without them.

"I also want to extend my sympathy to the victim of the unprovoked attack in Bulgaria."

A statement read by the Bishop of Liverpool, James Jones, on Michael's behalf read:

"The last four years have been a living hell. Today is the first day of the rest of my life. It's a hard thing to be locked away for a crime you did not commit.

"I was just 18 when I was arrested. I'm now 22 and face having to rebuild a life shattered by the failure of two legal systems: one here in the UK and one in Bulgaria.

"Today is a happy day for me but one of mixed emotion too. I am a free man, yes, but it should not have come to this.

"I face a hard battle to adjust to normality, to find a job, resume friendships and to build an ordinary life.

"I would like to extend my sympathy to the family of Martin Georgiev, who was the innocent victim of an unprovoked attack. He and his family, like me and mine, have been denied justice for four long years." (Official Liverpool Site)
This is indeed great news. It seemed from the very outset this young man, and he was just a teenager at the time, was the victim of a horrendous judicial nightmare the kind of which you could only contemplate in your worst nightmare. Can you imagine what would have been going through his head after such a great night watching the club triumph over AC Milan to then spend the next four years in jail for a crime you know you have not committed.
It's a scary thought. Think about that for a moment. Four and a bit years in jail knowing you were totally 100% innocent, it's the kind of thing that must have the potential to drive you to insanity. I am glad that Jack Straw granted the pardon but there has to be an element of anger within the Shields camp about how long it has taken this government to react.
It's great that Michael is a free man and it is worth considering that anyone of us who travels all over Europe, and beyond, to watch our team could so easily have found ourselves in such a situation. It doesn't bare thinking about and it must have been an absolute nightmare for his friends and family.
Regardless of your footballing affiliation I am sure everyone can sympathize with this young lad and I wholeheartedly hope that he recovers from this ordeal and manages to move on with his life.
YNWA