The Aussie is beginning to make Gareth Barry and Jermaine Pennant look good!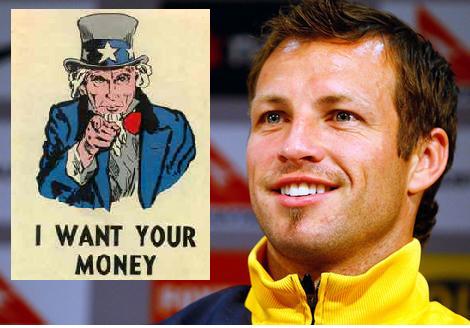 Lucas Neill's search for a new club after parting ways with West Ham United has hit yet another stumbling block, with reports that Spanish club Real Zaragoza are unwilling to meet his wage demands.

The newly promoted side are keen to secure the Australian defender's services, but not at his requested salary of €2.5 million (£2.2m) per season, according to El Periodico.

"[Neill] is a player who, as we have seen, fits the profile as far as positions we are looking for and what they can offer [on the pitch] but whether he fits the financial profile does not depend on us," a Real Zaragoza source said.

El Periodico suggested the club had no plans to improve its offer, believed to be worth around €2m (£1.7m) per season.

The reports follow strong rumours that the former West Ham skipper was about to sign on with fellow Primera Liga club Atletico Madrid. That deal has since fallen through. (Goal.com)
What is wrong with footballers today? Lucas Neill is not a great player, in fact he is probably barely a good player, and he is almost certainly a millionaire who will probably never have to work another job when his footballing career comes to an end, so why the hell is he trying to rip off any potentially interested club.
My money is that he will hold out for a move to Notts County!