If only!
Portsmouth Vs Liverpool Tickets Still Available!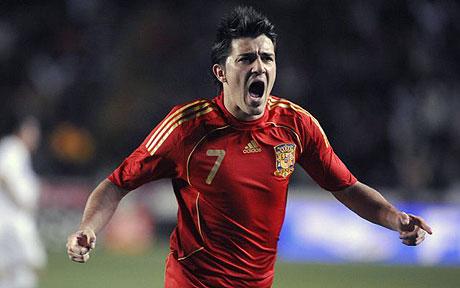 Liverpool will return to the charge for the Valencia attacker David Villa in the winter transfer window.Rafa Benitez will ask for 49 million euros from the owners of the club. (Eurosport)
Villa hit out at the tactics of Emery after his side were held to a 2-2 draw at home by 10-man Sporting Gijon.

'The approach after the second goal wasn't right,' Villa told Canal Plus. 'We had chances but in the end, that's what happens.

'If we continue, we will be like last year. If we relax and draw against teams with 10 men, we won't go anywhere.' (Various)
Rafa has apparently made it abundantly clear he wants financial backing from the club's American owners when the January transfer window reopens and he wants a big wad of cash so that he can attempt to finally land David Villa, a player we have been chasing for some time, if you believe the tabloids that is.
Benitez would obviously love to see Liverpool re-create the awesome Spanish national partnership of Torres and Villa but how realistic is it that Hicks and Gillett will hand over the £45m it will reportedly take to get Valencia to sell their prized assets? Even though we have been in rich vein of form I don't see the Americans getting their chequebooks out, remember the report that was leaked a few days ago that said our boss has a £20m transfer cap for each season for the next five years. By that rationale it would take us a good two and a half years to save up the cash, unless of course he chose to sell a big name or two.
A move for the talented impish lethal finisher would be a dream, but right now that is exactly what it is, a dream.
YNWA