Wenger sets sights on young Spaniard.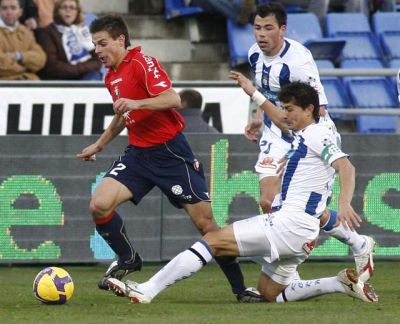 Arsenal could be about to spend £2m on parmesan and crouton-based Osasuna full-back Cesar Azpilicueta. "At the moment, I can only concentrate on working with Osasuna and progressing my football," Azpilicueta said yesterday. (Guardian)
20 year old right wing back Cesar Azpilicueta is apparently one of the hottest prospects in Spanish football, progressing through the ranks La Liga minnows Osasuna whilst also moving through the international set up to within sight of a full call up to the Spanish national team.
It seems unlikely that any player in a top flight club could be bought for just £2m in this day and age but clearly he is a player that Arsene Wenger has taken a long hard look at. I guess however given the new guidelines brought in by the Premier League such a move may not be quite so wise and the bringing in of players from abroad who are unable to complete the necessary three year period of development at an English club will therefore be deemed as not 'homegrown' and therefore less likely to be brought in, especially if the player concerned is not a household name.