Sad, pathetic, w**kers!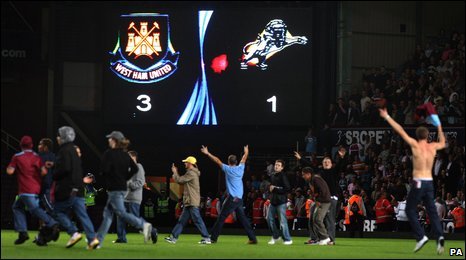 West Ham and Millwall have been hit with several Football Association charges after the crowd trouble which marred their Carling Cup match.

They are expected to contest the accusations of failing to control their fans at the match on 25 August.
Both clubs are alleged to have taken insufficient action to stop missile throwing and violent, threatening and racist behaviour at Upton Park.

The Hammers face four charges, while Millwall must answer three.
A Millwall supporter was stabbed as fans clashed outside the east London ground and pitch invasions by West Ham fans followed each of their side's goals in the 3-1 extra-time win.
West Ham's Carlton Cole and Millwall's Jason Price also alleged they were racially abused by supporters.
A total of 200 seats and a toilet block in the visiting supporters' section of the ground are understood to have been damaged.
An FA statement alleges the clubs did not ensure their supporters conducted themselves in an orderly fashion "in and around the ground".
Both West Ham and Millwall face charges of failing to ensure their fans refrained from:
– Violent, threatening, obscene and provocative behaviour
– Racist behaviour
– Throwing missiles, harmful or dangerous objects onto the pitch

West Ham are also charged with failing to ensure their supporters did not enter the field of play.
The FA has liaised with the Metropolitan Police and received reports from both clubs, who have 14 days to respond to the charges.
Fans identified as troublemakers will face lifetime bans, the FA has said.
Details of possible sanctions if the clubs are found guilty have not been revealed, although it appears heavy fines are an option, with West Ham facing the biggest punishment.

Previous records of dealing with crowd behaviour will also be taken into account, while footage from 47 closed circuit television cameras inside Upton Park is being examined as police inquiries continue. (BBC Sport)

Their are some reports suggesting that West Ham could be slapped with "behind closed doors" punishment but such a penalty would be vastly unfair on the overwhelming majority
of West Ham fans. These people are mindless idiots from an other age. People who go to such games with a view to inciting violence and invading the pitch really are sad idiots who clearly have no real interest in football or for the two clubs in question.
It is very hard to prevent a great deal of the offences committed on that night and by giving life bans to those who they highlight as being involved in the fracas West Ham has done just about as much as they can. Those calling for such cup ties to not be allowed to go ahead if they are drawn together in a competition I would say "get real". You can not allow hooligans to dictate who a team plays and what do you do if the two teams find themselves in the same League?
Both teams have a history of having hooligan elements and those who thought that this behaviour was a thing of the past were dealt a wake up call when the two sides met for this Carling Cup fixture but at the same time no one should be under the impression that this is in any way the norm or anything like as bad as it was a decade or two ago.
All the clubs and police can do is find those who were involved in the disturbances and prosecute them to the full extent of the law. To punish either team would be a big mistake in my view.