What the F**k?
Portsmouth Vs Tottenham Tickets Still Available!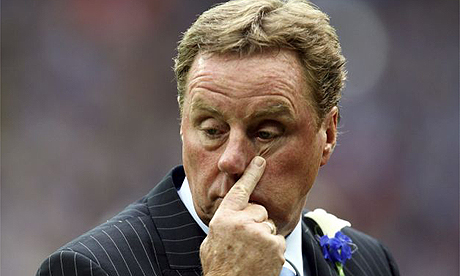 For reasons that we have yet to establish at the time of writing, Harry Redknapp has shot to favourite in the next Premier League manager to go market. He is at 7/4, with Paul Hart languishing behind in the sack race at 3/1.

In the last hour, Paddy Power have stopped taking bets on his departure.

Has there been a fallout? Is it dangerously close to the annual date when Tottenham traditionally sack their manager? Or is this another Ribery/Benitez-style betting scam? (The Spoiler)
Now this is odd. Similar betting patterns occurred just before Michael Owen completed his move to Man United but similar things happened with regards to Franck Ribery leaving Bayern Munich. I can't for the life of me find any reason why Redknapp would leave the club or be sacked, so it is more than likely a result of some nutjobs piling on the cash just to prove how insane they are or perhaps Paddy Power likes the publicity such changing of odds generates? Some have claimed that perhaps some bung activity has occurred, but that could just be mindless twaddle.
Either way, it seems highly unlikely Harry would leave. Unless of course Notts County are on the lookout for a new boss!