Bulgarian international insults himself!
Portsmouth Vs Manchester United Tickets Still Available!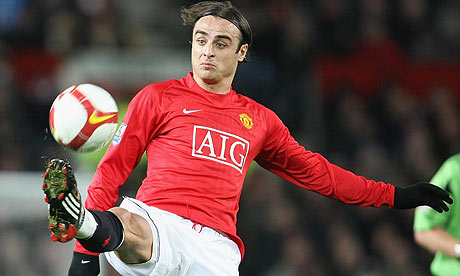 Dimitar Berbatov has admitted he failed to live up to what was expected of him in his first season with Manchester United and that he now recognises the rapid need for change if he is to prove his worth.

The Bulgarian striker, who arrived from Tottenham for a fee of £30.75 million last summer, scored 11 goals in 34 appearances last term and is the first to criticise his form.
Believing he may have piled too much pressure on himself, the 28-year-old told the Sun: "In my first year I was disappointed in myself. I need to say that. It was a big pressure for me and maybe I failed myself. I think I wanted to prove myself to these supporters.

"You must remember, they are used to Best, Charlton, Cantona. I am just Dimitar. I don't know what I am doing wrong sometimes. Maybe it's luck, maybe it's me.
Admitting that the condemnation he received in his first season with United had taken its toll, Berbatov added: "I will be honest. This criticism did affect me, but not in a negative way.
"I looked at our ProZone stats and saw that I was ninth in distance covered. I am kind of a nerd. I looked at them too much, maybe. By the end of the season I was fourth. Maybe this season I will be first."
With opinions on the Bulgarian's capabilities split, Berbatov expressed his gratitude to those fans who had stood by Sir Alex Ferguson's decision to pay such a large sum of money for him. (Telegraph)
Dimitar may be a little harsh on himself on this occasion. After all he did help the club to a Premier League title and to a Champions League final. This term he does appear to have a better understanding alongside Wayne Rooney and at times their interplay is a joy to behold. Many still believe the outlay made by Sir Alex for the Bulgarian was a little on the high side but in todays market the price doesn't seem that absurd, after all Man City paid the best part of £24m for Joleon Lescott!
Many have probably expected too much from the former Tottenham man, with some supporters hoping Dimitar would become the next Cantona or that he would be bagging goals aplenty, but his game is about much more than finding the back of the net and I can see him coming into his own this season.