Only weeks away from Italian's debut.
Portsmouth Vs Liverpool Tickets Still Available!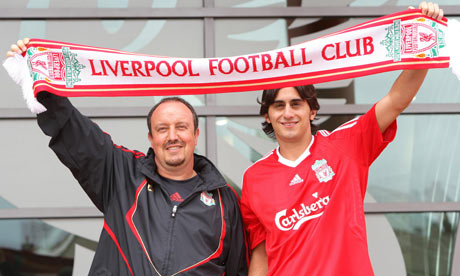 Rafa Benitez expects Alberto Aquilani to make his long-awaited Liverpool debut in the Carling Cup fourth-round tie at Arsenal on 28th October.

The £20million summer signing has yet to make an appearance for the Reds after requiring surgery on a troublesome ankle injury in August.

In the 25-year-old midfielder's absence, Liverpool have failed to hit the heights of last season, suffering knock-backs in both the Premier League and the UEFA Champions League.

The Merseysiders enter the international break on the back of successive defeats to Fiorentina and Chelsea, but Benitez has been given some welcome news about the former Roma performer to lift the gloom over Anfield.

"I have been speaking to the doctors and things are going well with him," the Reds boss told the Liverpool Echo.

"Alberto is progressing all the time. It could be two to three weeks before he is back.

"But we need to use caution. We will take it one step at a time and we have the international break to look forward to now.

"That will be good for him, as he will have some more time.

"He is running and swimming – I think he will have the record in the swimming pool by the end of his programme – and he is working in the gym," said Benitez.

"He is doing almost everything and he is doing some things with the team.

"The only thing he is not doing is kicking a ball – not yet any way." (Sky Sports)
Well lets hope he starts kicking a ball soon as that is clearly a fairly important part of any footballers game. On a serious note, this is good news, and when the Italian finally gets on the pitch everyone will be playing very close attention to see just what he is capable of.
I don't want to make Xabi Alonso comparisons but many will do just that, the former Roma man is a different type of central midfielder who should offer us grit and determination as well as a nice touch and intelligent use of the ball, he is far less likely to pull out a raking 40 yard ball or finish superbly from 25 yards, as Xabi used to, Alberto is his own man and is more about short, crisp incisive play and I for one will cheer his every touch in a Liverpool shirt.
YNWA