Good on you son.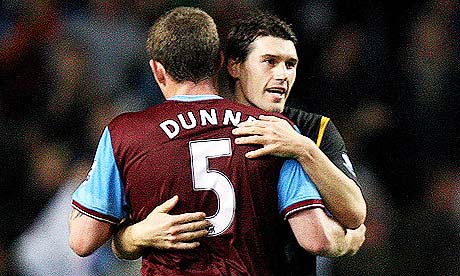 Aston Villa defender Richard Dunne says he did not celebrate his goal in the 1-1 draw against Manchester City as a mark of respect to his former club.
Dunne, who joined Villa last month after nine years at City, was applauded by opposition fans as he walked back to his own half after the first-half goal.

"I really enjoyed my time at Man City," he told BBC Radio 5 live.
"As much as it was nice to score my first goal here, you still have to remember how much City have helped me."

He added: "That's the way I feel. I respect the fans and everyone there so it was the right thing to do for me.

"It just seems to happen when you are up against a former club. People seem to score. I don't have a celebration for when I score. Usually if I score, it's a surprise. I don't know when it is going to happen. (BBC Sport)
You have to doth your hat to Richard Dunne on this one. I was glad to see that the former Man City man didn't feel the need to run 100 yards and anger his former supporters when he put away his header. You could see in his face that he took no pleasure in the goal, beyond the obvious fact it had put his new side one nil up, he was just not going to shout about it and wanted to use the perfect moment to show his respect to the Eastlands outfit.
Carlos Tevez did likewise when he scored against West Ham whereas Emmanuel Adebayor decided to do his utmost to irritate Arsenal fans when he scored against them the other week. Whether he merely reacted to the abuse he was receiving or whether it was a planned attack on the club that made him who he is today, either way it was unwise and in fact unsafe to charge at his former club's fans an act that almost led to a full scale riot.
It was also good to see the City fans applauding their former favourite and in turn Dunne put on a masterful display for Aston Villa and arguably was the man of the match against his former employers.