Wenger looks to strengthen his back line.
Watch Ukraine Vs England Live Online!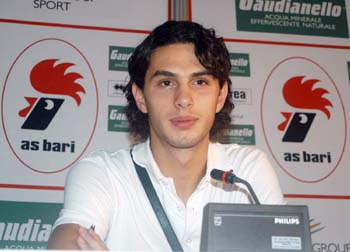 Arsène Wenger of Arsenal, the prestigious London club has an on his eye on two jewels of the defense of Bari: Leonardo Bonucci and Andrea Ranocchia.

"At San Siro Arsenal scouts were present to watch Bari hold AC Milan to a goalless draw" (Corriere del mezzogiorno)
The young Italian centre back pairing of Bonucci and Ranocchia has been very effective this season, conceding just four goals in the first seven Serie A games of this season. This defensive stat is all the more impressive when you consider the minnows have already come up against Inter and AC Milan.
At 21 and 22 respectively both are good quality prospects with Ranocchia currently on loan to Bari from Genoa, being the more accomplished of the two. Whilst I have been pleased with the combination of Gallas and Vermaelen I long for the stability we had with the likes of Adams & Bould or indeed Adams & Keown and perhaps this pair could provide that in years to come. In many ways Belgian Vermaelen could be better served in the centre of midfield.
Arsene Wenger may feel the club needs more in the way of defensive talent to call upon in the longer term and the Gunners have been linked with many young centre backs in recent months and It is no surprise that Arsenal are sending their scouts to report on the likes of this upcoming £12m rated Italian pair.