Jamie issues wake up call.
Portsmouth Vs Liverpool Tickets Still Available!
Watch Ukraine Vs England Live Online!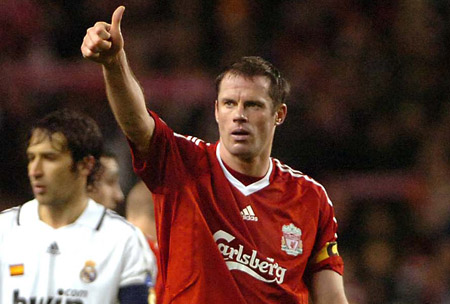 Liverpool defender Jamie Carragher has conceded he has not been playing to his best so far this season, but has vowed to recapture his peak form.

Carragher has come under fire from some critics following some below-par performances by the normally reliable defender.

"We aren't playing well as a back four and I'm not playing well personally," Carragher told the club's official website. "I need to hit better form and hopefully that will come in the next few games.

"Over the last five or six years we have been renowned as a team who have kept a lot of clean sheets and for keeping it tight. I think that's why we get a bit more criticism because people don't expect it of Liverpool – and rightly so.

"We take the plaudits when things are going well so you have to take the criticism when it's not going well.

"I know I need to improve myself and we also need to improve as a team."

No side has won the championship after losing three of the first eight league games since Manchester United in 1967, but Carragher is refusing to be pessimistic about Liverpool's chances of finally ending their long wait for the title.

"You can shape statistics to make them look however you want them to," added Carragher.

"We've now got the same points as Manchester United had at this point last season. That's another statistic you could look at because they went on to win the league with 90-odd points.

"Whatever statistic you throw at us, we know we haven't made a good start. We don't need to look at them because we know ourselves that we haven't performed as well as we would have liked in certain games. We now have to put that right. (Sky Sports)
You can always count on Jamie to say its as he sees it. He is right we haven't had a great start to the season but it's also not the end of the world. We have time to correct things and we need our defence to be its usually solid self, the other end of the pitch is doing just fine.
Rafa will have hammered these issues home in training and will want to see our back four not making silly mistakes with such regularity. We have some tricky games ahead and we need to come through them relatively unscathed to keep the pressure on those currently above us. The fact that the league is far more open right now means that top teams will lose more games and we are not alone in this regard.
YNWA