Forget about any other World Cup Qualifier tonight, unless of course it is to see all the highlights, which will all be here on COS straight after their completion, stay up late set your morning alarm an hour or two late (or call in sick). The match to watch starts late and is well worth watching.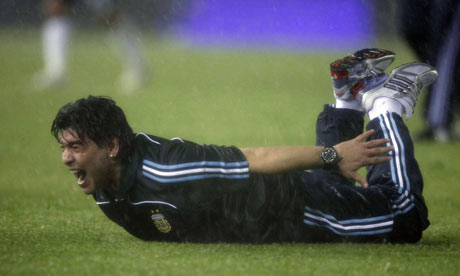 Diego Maradona is proving to be a pretty poor choice for Argentina manager isn't he. Clearly all his magical ball skills haven't so easily translated to the dressing room. Considering the myriad of talent he has on offer; Messi, Aguero, Mascherano, Palermo, Aimar, Tevez, Higuain etc…, he really should have managed to get his side safely to that plane to South Africa, but no. He has incredibly managed to lose six out of 17 games in the qualifying stages, including a 6-1 mauling at Bolivia that by rights should have resulted in an immediate sacking.
Now they come up against Uruguay knowing that only a win will guarantee safe passage to the World Cup finals, but it won't be a gimme that's for sure. Argentina have lost five out of their eight away games thus far and conversely their opponents only home defeat came at the hands of table toppers Brazil.
There are bound to be cautions galore in this must win contest and a fair amount of flair on show and if Maradona's side fail even to clinch the fifth place play-off spot, expect the former legend to go into hiding.
The action starts from 11pm UK Time, do not miss it!