Very sad individuals indeed.
Join Our Facebook Fan Page for the Latest News/Rumours/Forums/Videos/WAGS/Funny Stuff/Features!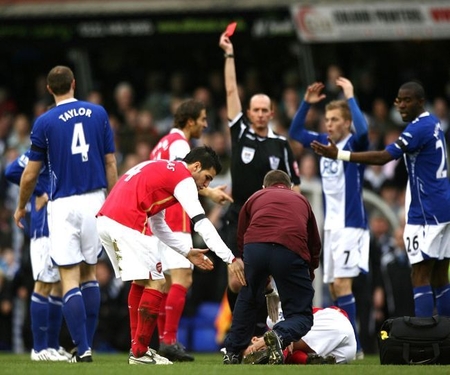 Arsenal manager Arsene Wenger has slammed Birmingham's fans for chants which he describes as 'atrocious'.

Blues fans sang 'There is only one Martin Taylor' after Liam Ridgewell had slid in hard on Theo Walcott during Saturday's game at Emirates Stadium.

The chants were in reference to Taylor's infamous challenge on Eduardo some 20 months ago, which broke the Croat's leg.

And Wenger was left seething with the reaction of the Birmingham fans.

"I was disappointed with the chants, it was frankly atrocious," said.

"They will not be remembered for the quality of their taste with that kind of remark.

"I didn't say a word, I just thought 'That's low'.

"Eduardo was here. I don't know how he felt about the chants. I just put that in the ranks of stupidity – you want to forget it because there's not a lot to say."

Blues boss Alex McLeish insisted he did not hear the chanting.

"I never heard it," stated McLeish. "I'm not going to discuss it.

"We don't condone that kind of thing. Our fans gave us great away support but I wasn't aware of the songs." (Sky Sports)
I can well understand Arsene's annoyance and the idea that Alex McLeish 'never heard it' is very hard to believe, I was at the game and I certainly heard it. Eduardo was pretty much assaulted by Martin Taylor, a player who has literally no ability as a footballer whatsoever, and I have to admit I found it laughable that he then tried to claim there was no malicious intent in the tackle he committed.
As for those sad cases who sang the song, well I guess there will always sick individuals out there and there is little that can be done, clearly our lads did the talking on the field and had the last laugh as we eased past their fairly pedestrian back four.
I do not want to tar the entire Birmingham City support with the same brush and would just like to single out anyone who decided that singing such a song was anything but offensive and then just label them as scum.