Sir Alex very keen on Serie A hot prospect.
Portsmouth Vs Manchester United Tickets Still Available!
Join Our Facebook Fan Page for the Latest News/Rumours/Forums/Videos/WAGS/Funny Stuff/Features!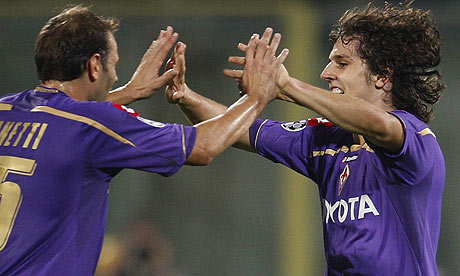 Manchester United are reportedly preparing a mega €28 million swoop for Fiorentina starlet Stevan Jovetic.

According to the programme 'Radio Viola' on Lady Radio, the Premier League giants are making plans to land the highly-rated hitman. It is said the club are looking to better a recent evaluation of Jovetic where his agent claimed he was worth €25m.

However, signing the youngster is not going to be easy as earlier, sporting director Pantaleo Corvino backed his man to become a Viola legend – rubbishing reports he was tipped to leave.

"He is determined to stay here as he loves it in Florence," Corvino told Sky Sport Italia on Monday night.

"He doesn't have many doubts and I am happy. I see him destined to become a legend of this club, like so many champions have been in the past."

'Jo Jo' has consistently been linked with a number of major clubs by the press in Italy, but neither Manchester United nor Fiorentina have added any substance to the reports. (Goal.com)
Teenage Montenegrin attacker Jovetic was of course the architect of Fiorentina's recent victory over Liverpool and it appears that Champions League performance, coupled with a great Serie A season thus far and international success has led to a large queue forming for this talented youngster.
Of course Sir Alex still has the lions share of the Cristiano Ronaldo money burning a hole in his back pocket and whilst he may be looking to established names such as David Villa he may well it appears have one eye on the future and with that in mind he is a bid admirer of the adaptable Jovetic.
He is equally comfortable out wide as he is as a striker or indeed in the hole behind the striker, a job he does well at club level with rejuvenated Albrerto Gilardino in front of him. The Serie A side will be trying their hardest to fight off interest in their young prodigy but given how deep the Old Trafford side's pockets are at present, the £25m price tag is unlikely to scare off Ferguson.