Wenger interested in Black Cats captain.
Join Our Facebook Fan Page for the Latest News/Rumours/Forums/Videos/WAGS/Funny Stuff/Features!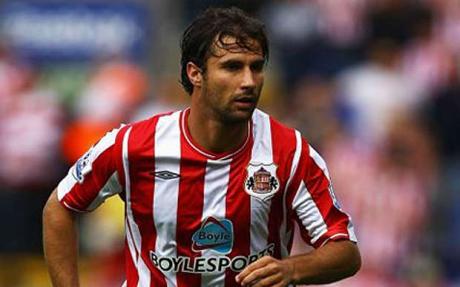 Arsene Wenger has not given up hope of signing Lorik Cana, despite the Albanian midfielder moving to Sunderland this summer.

Cana was tracked by Wenger last season and the Arsenal boss could make a fresh move next year.

The Barclays Premier League's first Albanian footballer has made a huge impression on Wearside since his £5m switch from Marseilles in July, forming a tough-tackling partnership with Lee Cattermole in central midfield.

Steve Bruce has even gone so far as to appoint the 24-year-old as the Black Cats' club captain, such has been his impact.
Arsenal are still in the hunt for a steely central midfielder to complement the silky skills of Cesc Fabregas and Andrei Arshavin, which led them to Cana. Everton and Liverpool also kept tabs on the player last year and could be tempted to rejoin the race. (Daily Mail)
This is interesting. There is no doubt that Steve Bruce got something of a bargain when he paid just £5m for the Marseille captain in the summer and it's a signing that has already done wonders for the north-east club's ambitions to push on towards the higher end of the top tier. If Arsene Wenger is really sniffing around then the Black Cats should be very worried indeed.
No doubt they have the Albanian under a long term contract but if his head is turned by the possibility of returning to the Champions League as well as joining a club with genuine title hopes then Sunderland will struggle to keep the player.
The battling midfielder has made the transition from the French league to the English very well indeed and could well be just the kind of player the Gunners boss has been looking for to give Cesc more time and space on the ball.