Tradegy confirmed in bordering Venezuela.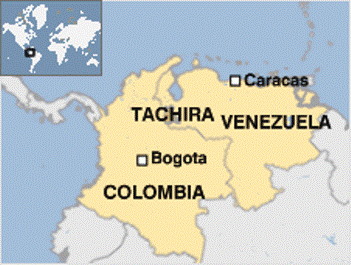 At least 10 bodies – believed to be those of a kidnapped Colombian football team – have been found across the border in Venezuela.
The bodies, with multiple gunshot wounds, were found in Tachira. One of the team is reported to have survived.
State authorities say they suspect a left-wing Colombian guerrilla group, the ELN, is to blame for the deaths.
The team, kidnapped two weeks ago, was known as Los Maniceros or Peanut Men, as they sold nuts along the border.
The Venezuelan authorities say they are still investigating whether the bodies are those of the kidnapped team members.
But local authorities in Tachira and several local newspapers are already reporting that the footballers have been killed. (BBC Sport)
Colombia is of course a thoroughly dangerous place and one that has had its fair share of football related tradegy, with perhaps the most notable fatality in the country's history being Andres Escobar who was murdered following his own goal against the US in the 1994 World Cup Finals.
This latest incident is as yet unexplained but is reportedly linked in some way to enforced recruitment to the ELN.