Becks lets his feet do the talking whilst doggedly confirming he will never shave again.
Join Our Facebook Fan Page for the Latest News/Rumours/Forums/Videos/WAGS/Funny Stuff/Features!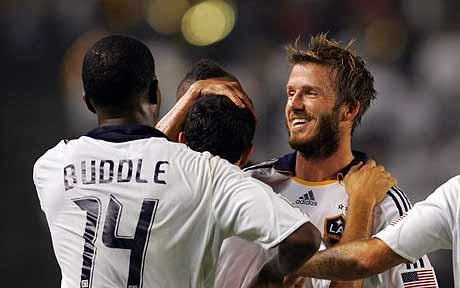 England midfielder David Beckham's LA Galaxy side have confirmed themselves as MLS Western Conference winners after a 2-0 win over San Jose Earthquakes.
Beckham, 34, played an integral part in Sunday's victory at the Home Depot Centre in front of a sell-out crowd.
"We wanted to finish off on a high especially in front of our fans and we did do that," Beckham told mls.net.
Galaxy face Houston in next week's semi-final series following the Dynamo's 2-0 win over Chivas USA.
Beckham, capped 115 times by England, received a standing ovation when he was replaced by Jovan Kirovski four minutes from time on Sunday.
That was a marked contrast from earlier in the season when he was confronted by Galaxy fans who jeered him on his return from a loan spell in Italy with AC Milan.
Whilst Galaxy clinched a place in the play-offs three weeks ago, Beckham insisted that it was important they continue their momentum to secure what is the team's first Western Conference title in seven years.

"It was important we won the game, to be top in our division," he said.
"We've played better in games and we've passed the ball better in games but we won the game.
"It pleased the fans that it made us the top but we don't stop here.
"There is still a lot of work to be done but I'm happy with the position we're in."
The Galaxy's win on Sunday – their first victory over the Earthquakes in three attempts this season in the 'California Clasico' – was not without good fortune.
They opened the scoring when Landon Donovan's cross was deflected into his own net by San Jose's Bobby Burling before Donovan scored the clincher 13 minutes from time.
The first legs of the play-offs, for which Galaxy will be away at Houston, will take place between 29 October and 1 November with the return legs taking place between the 5 and 8 of November. (BBC Sport)
Well this makes a nice change, a positive news story from David Beckham's sojourn in the US. A run of just three defeats in 16 has helped the Galaxy to the Western Conference title, which would have been unthinkable a few months ago considering the MLS side managed to go its first 11 games without a win.
Beckham's much publicised falling out with a number of fans in those early days of the season were plastered all over the front and back pages and it's ironic that when the England international does assist the club back into form on the field of play it doesn't quite get the attention it deserves.
The 2-0 win over San Jose was played out in front of a sell out 27,000 crowd who will now be hoping that Beckham can continue to help the side as they move into the play offs.