The kind of performance that silences critics.
Join Our Facebook Fan Page for the Latest News/Rumours/Forums/Videos/WAGS/Funny Stuff/Features!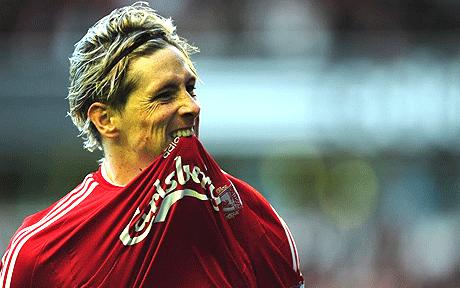 Well that was just what the doctor ordered…and then some. Its hard to imagine a more perfect result for Rafa and Liverpool Football Club, obviously having Javier Mascherano sent off late on was not ideal but in many ways him giving his all for the team all the way until the last seconds, hence the late challenge on Edwin Van der Sar, is in many ways a good thing and shows that the Argentine is mentally back on the ball.
Yes Man United looked subdued and were by no means firing on all cylinders but that can not take the gloss off our own very capable, very measured and very organised performance. Throughout the side there was a sense that it was time to deliver and time to show the boss that they were going to fight for the cause and battle in his defence.
The match moved at its expected 100mph style but from first to last whistle, with rare exception, every player seemed to be a picture of concentration and they appeared to want the win and perhaps more importantly, believed they were capable of putting Sir Alex's side to the sword for the third time running.
In my view there was no better player on the park than Yossi Benayoun. The Israeli scampered and harried for everything. When he had the ball he used it intelligently and was always looking for an attacking option, when he lost it, he made sure that the opposition couldn't progress and when needed he put in an expert pass wrong footing the United defence giving Fernando Torres the chance to out muscle Rio Ferdinand before firing an unstoppable finish.
Long before that Fabio Aurelio was a big threat, his expertly swung in set pieces were causing their defence loads of problems and one can imagine just what score we could have racked up if Ben Foster was still between the sticks, thankfully for the Old Trafford side Edwin Van der Sar kept them in the game with a couple of fine saves, one from an Aurelio free kick and another from a header from the Brazilian, which was laid on a plate by Yossi Benayoun, that to be fair Aurelio should have buried.
Lucas and Javier Mascherano bossed the midfield and silenced Paul Scholes and Michael Carrick. It was Javier's best game of the season and Lucas continued his progress from also ran to genuinely capable player.
Yes it's true that Ferguson's claim for a penalty when Jamie Carragher flung himself at Michael Carrick may have been just but as he himself respectfully agreed, Liverpool were still the better team and one who deserved the victory.
David Ngog's late second will do him wonders. The Frenchman is still very much adjusting to the Premier League and his calm and assured finish would last season probably have ended up in Van der Sar's midriff.
All in all Rafa needed this result, and this performance, more than anyone else did. What he must however hope for now is that a result of this nature is backed up in forthcoming 'easier' games against Fulham and Birmingham because it is in those less high profile games that we tend to shoot ourselves in the foot and we have done so far too often already this season that we don't have much of a foot left to aim at.
This season promises to be one of the most open in recent years. The top nine are separated by just nine points and even though we have already lost four matches this term, other sides have dropped points with alarming regularity which keeps us in the hunt. Just think what would have happened if Stevie G had been passed fit?
Reina 7 – Rarely troubled
Johnson 7 – A more measured performance. Rafa wisely advised him to cut back on the marauding runs
Agger 8 – Top notch performance. Dealt with just about everything and sprung out from the back with the ball to great effect
Aurelio 8 – One of Fabio's best games in a Liverpool shirt. Inch perfect delivery
Insua 7 – Did well to shackle Valencia for most of the game
Carragher 8 – Wholehearted display. Would expect nothing less from him
Benayoun 9 – Always a danger, always a threat
(Skrtel) 6 – Brought on for final three minutes
Mascherano 8 – Commanding performance
Lucas 8 – Was able to cut out the misplaced passes that so often earn him boos. Had a good game
Torres 8 – Took his one clear cut chance with aplomb just as World Class strikers will always do
(Ngog) 7 – Took his goal well and will hopefully gain some much needed confidence from doing so
Kuyt 8 – Tireless display
YNWA