Incredible.
Join Our Facebook Fan Page for the Latest News/Rumours/Forums/Videos/WAGS/Funny Stuff/Features!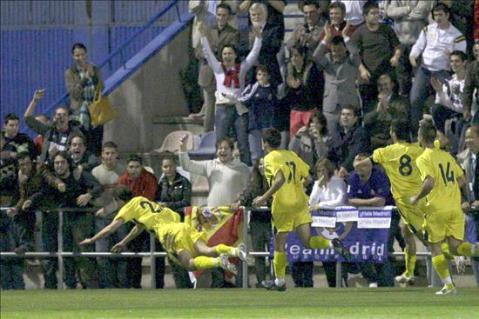 Alcorcon ply their trade in the third tier of the Spanish league and when they came up against big spending La Liga giants Real Madrid in the first leg of this Copa Del Rey (the Spanish equivalent of the FA Cup) they were probably just dreaming of the much needed cash the tie would generate, however the Alcorcon players had other ideas.
To say that the minnows outplayed Manuel Pellegrini's side would be an understatement and anyone thinking that perhaps the Bernabeu outfit sent out a plethora of untried youngsters to the match against the tiny side from the outskirts of Madrid will have to think again. This was the star studded line up for the cup tie.
Dudek
Arbeloa
Metzelder
Albiol
Drenthe
Diarra
Granero
Guti
Van der Vaart
Benzema
Raúl
Now that is eleven proven internationals, oh and Van Nistelrooy was brought on from the bench in the hopes of getting the Madristas back into the game. Whilst it is clearly not a result that will see the club's boss sacked it will have shaken the big spenders to the core and made them reconsider just how close they are wrestling any significant silverware from rivals Barcelona, who are the holders of the Copa Del Rey.
Alcorcon are on something of a high, last season they finished in third spot in Segunda Division B, their highest placing ever in their in 30 year plus existence. The ultimate underdogs will travel for the second leg with the world (minus Real fans of course) wishing them well as they attempt to hold off the marauding waves of attack that will surely be flung on them in front of 80,000 fans. Remember we are talking about a club who's home ground has a capacity of just 3,000, but no doubt every single fan present at last nights miracle will remember it for the rest of their lives.
If you missed the goals CLICK HERE to see the highlights from the match.