Finally!
Portsmouth Vs Liverpool Tickets Still Available!
Join Our Facebook Fan Page for the Latest News/Rumours/Forums/Videos/WAGS/Funny Stuff/Features!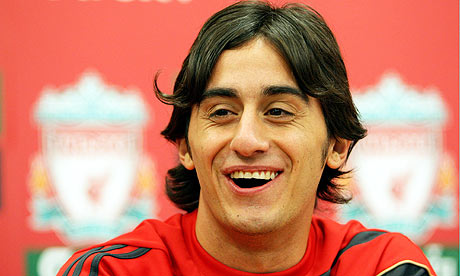 Alberto Aquilani could make his Liverpool debut against Arsenal on Wednesday after being named in the squad for our Carling Cup fourth round clash.
Click here to watch our interview with Rafa>>

The 25-year-old will not start at the Emirates but Benitez may utilise him as a substitute at some point.

The boss told Liverpoolfc.tv: "He will be with us. He is improving his fitness, so he's in the squad.

"He cannot start at this moment but he will be there and maybe we can give him some minutes. If it's possible we will try to use him."

Benitez believes the Italy international, who hasn't featured since signing from Roma in the summer due to an ankle injury, will add a new dimension to his midfield.

"We can see in every training session that he has quality, game intelligence and good movements," said the Spaniard. "He is a different kind of player for us.

"We talk about using Gerrard deeper sometimes, but maybe in Aquilani we have a player who can play there and pass the ball really well in the final third." (Official Liverpool Website)
I guess there was little could be done about this but it does seem that there will be a hell of a lot of anticipation and pressure on the Italian when he does finally walk out in a Liverpool kit for his first senior match. Having signed a player who was in the middle of a long term injury, there were always going to be some who were worried about just how things would work out.
Hopefully he will get a good run out tonight, in many ways its the best type of game to get under his belt. It's a Carling Cup tie but at least its a mouth watering one and one that can give him a stern test.
No doubt the away support will wince on every occasion a tackle comes in, but hopefully he will come out of the experience unscathed.
YNWA