Whatever will they think of next? We here at COS Towers love sick jokes but this one has left a bad taste in our mouths.
Join Our Facebook Fan Page for the Latest News/Rumours/Forums/Videos/WAGS/Funny Stuff/Features!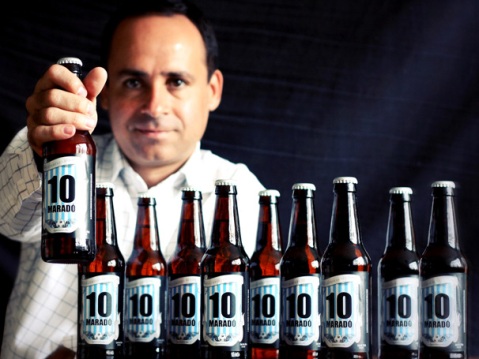 A group of Mexican businessmen have launched the first in what will be a new line of footballer themed beers called "La Liga Cervecera" (The League Brewery) and, naturally, they chose to start off with one named after a man who has had extensive health problems as a result of a severe drug addiction and alcoholism and is currently under fire for his insult-driven oral fixation. Talk about a match made in heaven!

Although the 10 Marado beer does not bear the likeness of Maradona himself (nor is it approved by him), it does feature his number and the blue and white stripes of his Argentina kit and the beer itself is described by one of its founders as having a "clear, full-bodied taste that resembles the more premium beers in Argentina."

A "Full-bodied taste"? Sounds like some kind of Maradona fat joke to me.

10 Marado was first shown off at the beer festival of Guadalajara and will be sold in the finest Mexican convenience stores, as well as the country's Argentine restaurants and bars, with a portion of the profits going to football charities and somehow "shared with the fans." (Dirty Tackle)
Well this is interesting and maybe more than just a little in bad taste (no pun intended). There is no doubting the legendary status of Argentine manager and former playing sensation Diego Maradona, the idea of naming a beer after the man is akin to a cutlery company coming out with a new set of merchandising named 'Dahmer'.
Its a little sick to label your beer after a man who's consumption of alcohol and drugs left him with the heart of a a 70 year old when he had just turned 40. I am sure that Diego will be looking into some sort of legal challenge to this venture as it so clearly seeks to gain financial reward from using his 'brand' to gain notoriety.
Whereas the company promises to invest some portion of the profits into charitable avenues we are sure they will be making a fortune that they will happily keep for themselves. The beer will of course not go down so well in England where no one would be seen dead drinking something glorifying the man who's famous 'Hand of God' 'goal' led to the 1986 World Cup coming to an all to early end.
Ten out of ten for originality but one out of ten for tact and presentation. Right now, I am off to try out these fine knives, anyone fancy joining me for dinner?