Now that was fun wasn't it.
Join Our Facebook Fan Page for the Latest News/Rumours/Forums/Videos/WAGS/Funny Stuff/Features!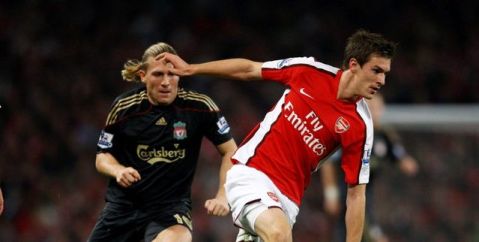 To see the highlights from the game CLICK HERE
I think given that the Carling Cup has become little more than a nuisance for the top tier outfits with bigger fish to fry this was quite an exhilarating match between two sides eager to give their youthful talent a run out alongside first team bench warmers looking to impress their bosses.
From the kick off both sides wanted to play an open game of football that went end to end for pretty much the entire duration. Arsenal had more of the possession but there was something refreshingly fluid about the Liverpool counter attacks that made this a great game for the neutral and was in many ways a joy to watch.
60,000 crammed into the Emirates for the meeting of two sides who tend to bring out the best in each others attacking lines, as evidenced in last season's 4-4 rip roarer. Both sides named elevens that bore little resemblance to those that took part in Sunday's Premier League fixtures and it was Arsenal who pushed on with wave after wave of free flowing attacks that for the most part Kyrgiakos and Skrtel managed to deal with, that was until Fran Merida let fly with a peach of a long ranger that Diego Cavalieri was truly powerless to prevent.
Liverpool didn't give up though and Emiliano Insua leveled with a spectacular 30 yarder of his own and it was at that point that the game started to really come to life with the second portion of the first half proving engrossing viewing. Rafa Benitez had clearly made it known that under performers such as Andriy Voronin and Ryan Babel needed to impress and the Ukrainian especially, after a stodgy first half hour, was beginning to link midfield and attack nicely.
Jay Spearing had a good game and managed to banish the memory of his poor performance at Sunderland. David Ngog was clearly oozing with confidence after his goal against Man United and was holding the ball up well and Damien Plessis was effective in the tackle and worked well alongside Spearing in the centre of midfield.
The second half followed a similar cut and thrust pattern until Nicklas Bendtner freed himself in the box, made room, and buried the ball past the Liverpool keeper. The youngsters in the Arsenal team were impressively mature and I was particularly impressed with Kerrea Gilbert on the right was managing to combine his defensive duties with a good line in forward momentum and intelligent passing. Philippe Senderos was also showing Wenger that he is still a decent, if somewhat one dimensional, centre back and may well have found himself back in Arsene's first team plans, albeit as cover, with this experienced performance.
As Arsenal attempted to close out the game, the Anfield outfit piled on the pressure and good interchange play between Voronin and Degen resulted in the striker pulling a shot wide. Alberto Aquilani finally made his Reds debut and showed touches of class including a wonderful 30 yard pass to set the Swiss full back on his way on another attacking run, this time Degen delivering a great ball into the box that just evaded Babel.
Samir Nasri was looking sharp on his first team return from injury and Sanchez Watt could have ended the game as a contest but fluffed his finish. It was one of those games that a viewer doesn't want to see come to and end and I found myself hoping, just for the entertainment value, that Liverpool could muster a late equalizer, and they almost did.
All in all a good exercise for both bosses to illustrate the talents and potential of those who are not necessarily in the managers minds when it comes to fielding starting elevens, but whose performances in this encounter did enough to suggest that they may not be a million miles away from breaking into their respective first teams.
Fabianski 7
Senderos 8
Silvestre 7.5
Gibbs 7.5
Eastmond 7
(Randall) 6
Gilbert 9
Nasri 8
Ramsey 8
Merida 8.5
(Coquelin) 6
Eduardo 7
Bendtner 7.5
(Watt) 7
Cavalieri 7
Kyrgiakos 7.5
Insua 8
Degen 8.5
(Eccleston) 6
Skrtel 7.5
Spearing 8.5
Plessis 7.5
(Aquilani) 7
Voronin 8.5
Kuyt 7.5
Babel 7.5
Ngog 8
(Benayoun) 7