Poor financial state forces Tigers supremo to step down.
Join Our Facebook Fan Page for the Latest News/Rumours/Forums/Videos/WAGS/Funny Stuff/Features!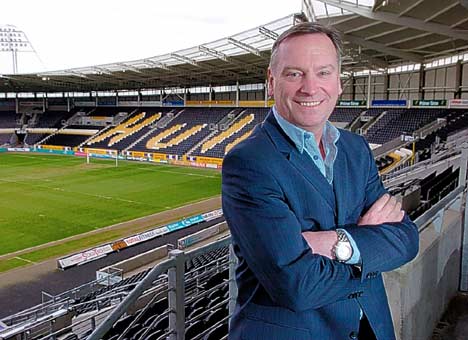 Hull City chairman Paul Duffen resigns

Duffen stood down this morning after pressure mounted on him and manager Phil Brown after a disappointing start to the campaign which has seen them take just eight points from their opening 10 games.
In addition, the club's accounts – finally released this week, five months behind schedule – showed borrowings of £22 million, prompting accountants Deloitte to predict Hull will have to raise £23 million to balance their books should they be relegated, and £16m if they survive.

Brown remains at the club and arrived at Hull's Cottingham training ground as usual to take this morning's session, but Duffen confirmed his departure shortly afterwards.
In a statement, Duffen said: "When I succeeded Adam Pearson as chairman of Hull City Football Club in June 2007 I was very aware of the responsibility to build on his legacy.
"I articulated an intention to take the Tigers to the previously uncharted waters of the Premier League and to the eternal credit of the players and coaching staff, that seemingly ridiculous ambition was achieved 11 months later thanks to a victorious debut appearance at Wembley in the play-off final.
"The start to our maiden top-flight campaign broke all previous records for a newly promoted side and ensured that 2008 will forever be remembered as the most remarkable year in Hull City's history.
"Football is a results business and in the same way that I enjoyed the successes of the previous two seasons, so I must take ultimate responsibility for the disappointments of 2009.
"It has been a tremendous privilege to lead the Tigers on this amazing journey and I pay tribute to all the staff for their hard work and dedication as well as to the fans for their magnificent support. I am proud to have played my part and wish the club every success in the future."
Pearson yesterday resigned as chairman of football at Coca-Cola Championship side Derby County, sparking suggestions he is set to return to East Yorkshire (Daily Telegraph)
The financial mess that Hull City find themselves in is perhaps a sign of just how hard it is for new comers to crack the Premier League code. The Tigers started last season fantastically well but found themselves in danger of the drop as they went into the last game of last term, fortunately for the club other results went their way but the threat of relegation this term could spark a very serious financial meltdown at the club, hence Duffen's decision to walk away from the club.
Given the club's large catchment area and the potential the side has to grow and survive in the top tier they should hopefully find another man to fill Duffen's shoes, with Adam Pearson looking likely to return to the club. They still need to find some much needed funds to keep the wolf from the door, but will want to do so without selling any of their bankable talent.