Catalan giants try to annoy Gunners in a whole new way.
Join Our Facebook Fan Page for the Latest News/Rumours/Forums/Videos/WAGS/Funny Stuff/Features!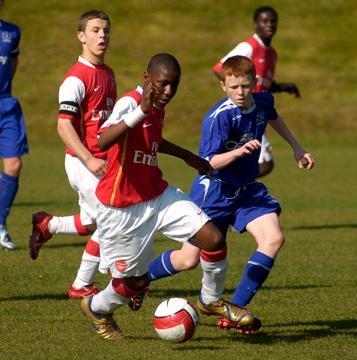 Barcelona's copycat chase of two of Arsenal's Under 18 starlets has been stepped up with Barça represenatives making formal offers for both Benik Afobe and Chukwuemeka Aneke to visit their Catalan base for talks.

Explosive midfielder Aneke has spurred the European Champions advances, preferring to remain with Arsenal, but Afobe is set to jet out during the week after completing England Under 17 duty where his 4 goals in 3 games earned him player of the tournament.

Young Guns revealed on Tuesday that Barcelona were scouting Benik and since then the worlds media have taken our story and run with it, including the UK's 'Gutter Press'. The 16-year-old's agent is speaking daily with the Blaugrana while Liam Brady must mull over whether to offer improved terms to the striker who has been offered a standard professional contract on his 17th birthday.

Barça are awaiting the green light from the player before showing their hand in the form of a deal. Up to £5500 a week in wages has been mooted but whether the terms materialise will be down to Afobe's reaction after looking checking out their facilities. West Ham have previously tried to sign the bulky frontman who has 7 Academy League goals this term – making him joint top scorer. (Young Guns)
Clearly Barcelona are keen to annoy us Arsenal fans. Not keen on continually 'tapping-up' Cesc Fabregas they appear to want to attempt to steal a couple of our youngsters, which is hopefully doomed to failure.
Whilst it is true we have a great many young players showing a lot of promise I would still suggest that anyone on our books stands a better chance of getting recognition at the Emirates than anywhere else. There are few managers more likely to blood young talent than Arsene Wenger and there are few out there who know how best to hone and mould youthful prodigy's into the real deal.
Both Aneke and Afobe have bright futures and hopefully neither will look to make a move to the Catalan giants and prefer instead to fight their way to the top in Arsenal colours.