Becks pictured using his inhaler during MLS Cup Final. Clearly having Asthma hasn't prevented him from being ultra successful athlete, so why did it take so long for this news to emerge?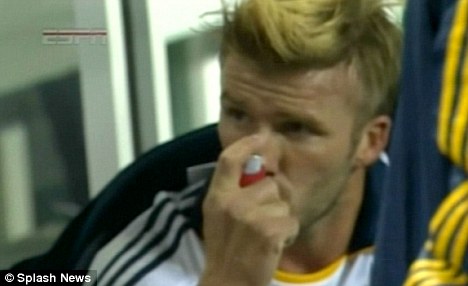 David Beckham's agent has played down concerns that the player's asthma could affect him at the World Cup next summer.

The former England captain was photographed using an inhaler as he prepared for extra-time during Los Angeles Galaxy's MLS Cup final defeat by Real Salt Lake yesterday. Altitude is expected to be a factor for all players during the tournament in South Africa, where six of the venues are at more than 3,000 feet above sea level.

Simon Oliveira, Beckham's agent, has confirmed the 34-year-old has dealt with a mild form of the condition since childhood but insisted it had never had an impact on his football.

"David has suffered with this since he was a young boy but it has obviously had no effect on his performance," he said. "He has never sought to make it public but if it does inspire any sufferer to think they can achieve great things like many other sportsmen have done then so much the better. Some of the best athletes in the world suffer from asthma and there is no problem with his aerobic fitness." (Times Online)
So there you have it. If Asthma sufferers needed a big name to help assure the public that suffering from the condition needn't affect your life then they now have it. Quite why it has taken so long for information about the England international's condition to leak out is beyond me and it is probably the one area of his life that hasn't been put under the microscope, until now that is.
As one of the most marketable sportsman on planet earth one wonders what impact knowledge of Beckham's condition could do for the image of those countless millions who battle with Asthma on a daily basis. He could become the poster boy to help bring awareness to the ability of sufferers to leave normal and productive lifestyles and lessen the preconceived notion that having the lung inflammation related condition can restrict enjoyment in the sporting field.