Three players punched following defeat at Brunton Park.
Join Our Facebook Fan Page for the Latest News/Rumours/Forums/Videos/WAGS/Funny Stuff/Features!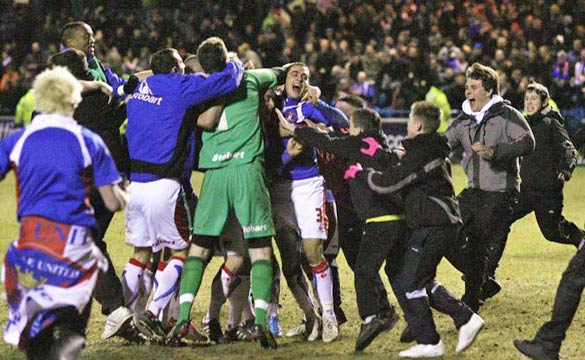 Carlisle United say they will investigate Leeds manager Simon Grayson's claims that his players were attacked by home fans at Brunton Park.
Grayson says his players were struck during a pitch invasion after Tuesday's Johnstone's Paint Trophy area final.
"Three of my players were caught by punches within the crowd, anything could have happened," said Grayson.
Leeds United confirmed on Wednesday they are also investigating the matter and intend to make a formal complaint.
"It is our current intention to make a formal complaint to the football authorities about the apparent lack of security arrangements in relation to the safety of our players at Carlisle," said Leeds United chief executive Shaun Harvey.

"It is also our intention to supplement the evidence we already have by having further conversations with both Carlisle Football Club and the Cumbria Police Force," added Harvey.
Grayson backed the club's decision to take the matter forward on Wednesday: "I am still very unhappy at the lack of protection afforded to my players and am pleased that the club will be taking the matter further with the relevant authorities."
Carlisle media officer Andy Hall confirmed the Cumbrian club were talking to club officials and local police on Wednesday to ascertain exactly what happened.
"After that meeting we will be able to say what we, as a club, think went on," said Hall.
Carlisle won the tie on penalties after a 4-4 aggregate draw, which sparked a pitch invasion. (BBC Sport)
This must be one of the first pitch invasions in Johnstone's Paint Trophy history, and all its previous guises, and its one that will surely goes to show just how badly protected players are in the modern game.
Clearly emotions were on a high as Carlisle United pulled off a dramatic aggregate victory and whilst it is hard to prevent supporters from running onto the field of play after a match that is clearly still no excuse whatsoever for attacking players of the opposing team.
p?r=onlinefootballmanager">Don't forget to check out Online Football Manager!