This is your chance to win a free six month subscription to the excellent LFC Weekly Magazine.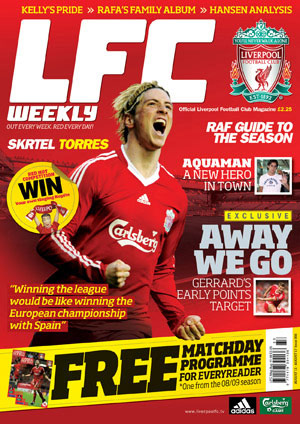 We here at COS have teamed up with Liverpool Football Club's Official weekly magazine to offer you a prize all Reds supporters will be ecstatic to win. We have been given a free subscription for six months to give away to one lucky winner. Below are also some fantastic deals on offer for all Anfield addicts.
GET YOUR LFC WEEKLY MAGAZINE FIX FOR FREE!

LFC Weekly Magazine is full of exclusive player interviews, behind the scenes content and all things Red on and off the pitch.

Every week you can also read columns by LFC legends – Alan Hansen for the best Liverpool analysis and Kenny Dalglish for news from the inside.

We have fantastic subscription offers available to you on LFC Weekly – don't miss out!

SUBSCRIBE FOR 13 ISSUES AND GET 7 FREE! – £29.25
SUBSCRIBE FOR 26 ISSUES AND GET 16 FREE! – £58.50
(Valid until 26th February 2010)

OUT EVERY WEEK, RED EVERY DAY!

CLICK HERE to see to see more details about this great offer.
So back to your chance to win a free half year subscription. We were looking for a relatively easy question, but not too easy, that would make Liverpool fans think a while before shouting out the answer, so here it is.
Q: How many International Caps have the Liverpool squad collected in total. That's right, the cumulative total of international appearances. (It is perfectly acceptable to check wikipedia). We will pick one correct answer at random who will then win the prize.
Send you answer to editor@caughtoffside.com
Good Luck