Former footballer turned gardener Owen Hargreaves may have all the time in the world, but that doesn't mean he has to shave…or sleep!
Join Our Facebook Fan Page for the Latest News/Rumours/Forums/Videos/WAGS/Funny Stuff/Features!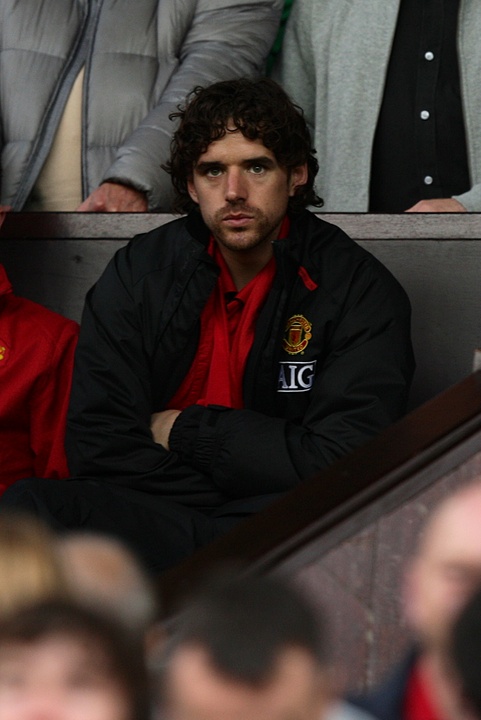 An emotional Owen Hargreaves is resigned to missing this summer's World Cup.

With his Manchester United playing career in the balance, Hargreaves has spoken to the England boss Fabio Capello, who has decided there is very little, if any, chance of the player making the trip to South Africa in June.

There are growing fears that, at 29, the midfielder is losing his battle with tendinitis in his knees that has limited him to 25 starts for United in three years, costing the club nearly £1million each.

It is 18 months since he last played and, after more than a year of rehab following operations on both legs, he has reverted from training with the first team to daily workouts with the club's physios.
Last month Capello expressed the hope that Hargreaves, a candidate to fill England's troubled full-back positions as well as the holding role, would soon be back playing to confirm his fitness and take up a place in the England squad.

But recently the weekly bulletins from United's medical staff to the Italian have been less encouraging and Hargreaves, who was voted England player of the year after the last World Cup, has been left in an increasingly emotional state.
Although Sir Alex Ferguson has not given up hope on him making what would be a remarkable comeback, the next four days will merely emphasise what he will miss if his career really is all over.
He is due at Wembley today, to watch his club-mates try to claim the Carling Cup, and will be staying just miles from the Grove Hotel, where the England players will gather to prepare for Wednesday's friendly against Egypt. (Daily Mail)
Now maybe I have got this all wrong but even if Owen Hargreaves, you know that midfielder who once upon a time played professional football, made a miraculous recovery and was available for selection tomorrow the small fact that he hadn't played a meaningful match since September 2008 would surely mean that he wouldn't be up for the task of representing his country at a major tournament.
The signs do not look good for the former Bayern Munich man who is cutting an increasingly forlorn figure as he sports the kind of stubble that comes from being incredibly sick of having the club physio on speed dial. You have to feel for Hargreaves, on his day he can indeed be a very important figure and having acquitted himself well on previous big tournaments on England duty it is a shame that Fabio can not call upon his services on this occasion.