Football fans will be very busy indeed
Join Our Facebook Fan Page for the Latest News/Rumours/Forums/Videos/WAGS/Funny Stuff/Features!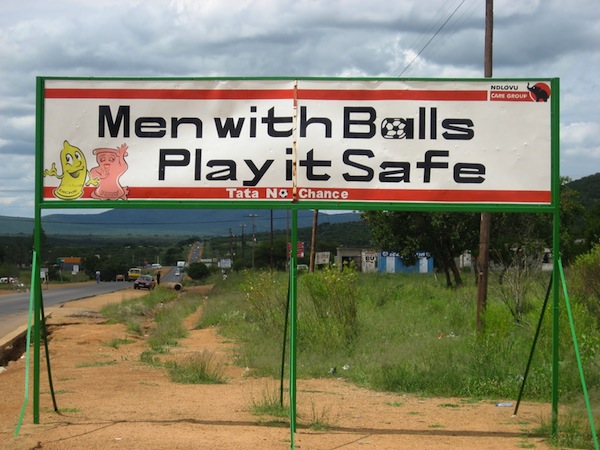 South Africa is expecting a very sexy World Cup this summer. According to the country's health minister, they think they'll need one billion condoms this year — more than twice as many as the government normally distributes — because of the expected influx of 450,000 foreign tourists and fans for the tournament (and John Terry and Ashley Cole, right? Hahaha you're soooo funny).
The U.K. alone will donate 42 million condoms (or £1 million worth) to South Africa, which has five million people living with HIV, more than any other country in the world.
Said South African medical official Victor Ramathesele:
"There's going to be a large number of people who will be descending on to the country.
"There's going to be a spirit of festivity and… there could be a more than usual demand for measures such as condoms.
"So there are measures in place to ensure that the condom supply is going to be ramped up during this tournament."
While the concern over sexual safety is admirable, they do know that there will be a bunch of football matches for people to watch, right? I mean, it won't just be a month-long re-enactment of the movie Caligula down there. Even if it was, they expect 450,000 foreigners to require an additional 500 MILLION condoms? Are they expecting people to want to make balloon animals out of them too? (Dirty Tackle)
Someone has done some rather off calculation here. Given that World Cup will take up around a month they are expecting the 450,000 football fans to need an additional 500 million condoms. Do the math and you will see that these figures would require each and every supporter to be 'at it' night and day with barely a second to spare to go and watch the matches they had originally shelled out large sums of money to see.
This statistic requires each fan to use 1111 condoms for the duration of their stay, is this physically possible? Who knows. However these stories do at least highlight the very relevant issue of sexually transmitted diseases that have ravaged South Africa.
Perhaps campaigns, such as the one who's image adorns this article, will help shed even more light on a very big problem. With 5 million South Africans living with HIV clearly Jacob Zuma has his work cut out to help battle such a endemic problem and perhaps the influx of additional condoms will go a long way to helping reduce the number of infected people in the country.