Sweet Heaven and Holy Jesus Why? Its like remaking Casablanca and having Paul Shane and Su Pollard cast as the leads!
Join Our Facebook Fan Page for the Latest News/Rumours/Forums/Videos/WAGS/Funny Stuff/Features!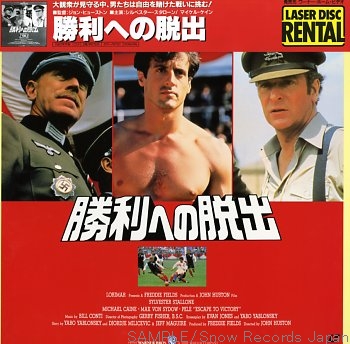 For those who haven't seen the 1981 football masterpiece, Escape To Victory, you're really missing out on something quite special.

One of the finest football movies of all time – which isn't as big a compliment as it sounds – it starred two great actors in the prime. Sylvester Stallone, taking a break after the first two Rocky films, and still a year or so away from Rambo. And Michael Caine, shortly after making turkeys like Beyond the Poseidon Adventure and The Swarm.

Those screen giants were joined by Bobby Moore, Pele, Ossie Ardiles, and various members of Ipswich Town Football Club, in a tale of pissed off PoWs taking on the Nazis in a football match, with Brad Friedel in goal (played by Stallone). The big news is that Vinnie Jones wants to remake the thing, with Becksie in the Bobby Moore role.

Beckham is, of course, already a seasoned actor, having played a character called "David Beckham" in the trilogy of Goal! films, whilst Vinnie Jones has morphed from football nutcase, into a real Hollywood darling. (The Spoiler)

But would his American peers really flock to watch a film about soccer? And who should take the Pele, Ardiles, and Stallone roles?

The Spoiler's vote would be for fat Ronaldo, Maradona, and The Rock!
Forget for one second the fact that Vinnie Jones is to acting what Diana Ross is to football, forget for a second that the original classic production of Escape to Victory was by no means an Oscar worthy movie, but just think for one moment who's bright idea this was and why anyone in their right minds would think that David Beckham could ever pull off a half decent impression of a professional footballer?
But seriously. This whole idea reeks of crapness. Remember Vinnie Jones has already worked his remake-magic (and by magic we mean the exact opposite, by the way what is the opposite of magic?) on The Mean Machine, which was originally a decent Burt Reynolds flick.
Is Hollywood ready for an Escape to Victory remake? Is anyone ready for a Escape to Victory remake? I am hoping that in this the age of the social networking phenomenon that someone will start a Facebook group pleading for such a movie to never be made. We of course are far too busy to do so but will gladly lend our support to any individual willing to take this sucker down!
Frankly this story is almost so insane as to make us believe its an early April Fools gag.