As a nation mourns the loss of a great man a lucky winner could be set to take his place at Cannes!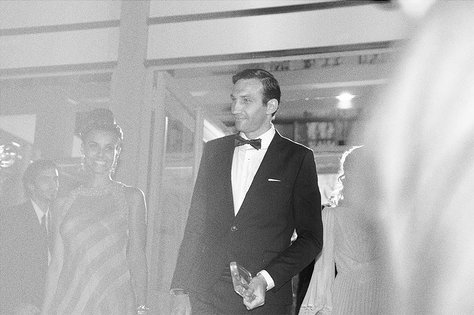 Think Cannes and you immediately think Glamour, Glitz, Champagne and Truffles (well we always think Truffles but you may not) and now you too can find yourself living a life of leisure, albeit briefly, at the famous film festival.
This year Stella Artois is hosting an exclusive event and they want you to attend, YES YOU!
You see the fabulous purveyors of beer had hoped to give their fantastic weekend away to renowned playboy, actor, director, some time tennis champion and all round good egg and style guru Jacques d'Azur but the thing is, he's kind of disappeared, leaving the sponsors with a spot to fill, fancy filling it?
Jacques will of course be sorely missed, he was after all the man who brought us the 60s classic "My Kingdom for a Rose" (loose translation from the French title). A movie that captivated the masses and confused the critics in equal measure. The celluloid icon was taking in a wave or two in his lavish yacht, The Artisans Retreat, when he mysteriously vanished into thin air. He was last seen by family, friends and general hangers on, bidding a farewell from the south coast of his beloved France a week ago and a nation sits in stunned limbo waiting to mourn or celebrate depending on what news awaits to be broken.
Maybe the sea has taken the great man for itself hoping that d'Azur can direct an underwater spectacular that could rival the magic he performed on dry land, or perhaps he simply jumped ship in an attempt to end it all. Some cynics have suggested that his "apparent passing" is in fact a crude attempt by Jacques to avoid an impending court case that stood to cost him what was left of his fortune and that he is in fact living in hiding in a small cramped cupboard in downtown Grenoble. These scurrilous lies will no doubt be vanquished in time when the sea does indeed bring d'Azur back on a low tide.
Of course it won't be an easy job. Sunning yourself, socializing with the celebs, taking in a movie, perhaps just scanning the horizon to view all the beautiful people, its a tough job we know, but darn it someone has to go! Did we mention that the 50 lucky winners from all around the world will be flown to Cannes and stay at Picasso's former home the highly prestigious Le Manoir de L'Etang in Mougin, if we did not mention it before we surely have now.
To find out more about how to get your hands on this simply incredible prize CLICK HERE.
Watch these incredibly moving videos to further remind yourselves of the impact Jacques d'Azur has had on all our lives.