Roberto Mancini looks to bring in form Roma man to Eastlands
Win the Club Shirt Of Your Choice Simply by Speaking Your Mind!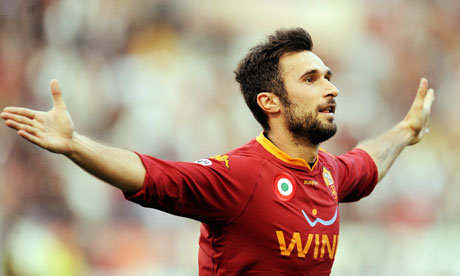 Manchester City are reportedly set to make a massive £20m+ bid for Roma forward Mirko Vucinic even though a previous offer made by the Eastlands outfit a day earlier was turned down flat by the Serie A side.
Roberto Mancini is apparently looking to bring in new attacking options even though he has a plethora of options at his disposal at Man City. The 26 year old Montenegrin has been in fine form at the Stadio Olimpico this term scoring 17 goals in all competitions this term and his efforts have helped Roma to within a whisker of leaders Inter Milan.
Manchester City will be hoping to lure the former Lecce man with a vastly superior wage and hope that a new challenge after ten years plying his trade in Italy and that the chance to take on Premier League defences may appeal to the towering front man.
Vucinic's powerhouse stature may well suit the physical nature of the English game and if enough money is offered to the Rome side they may well take the money as they do have a number of other attacking alternatives and are looking to snap up Luca Toni on a permanent after the Bayern Munich man's impressive loan spell at the club.
Join Our Facebook Fan Page for the Latest News/Rumours/Forums/Videos/WAGS/Funny Stuff/Features!