Old Trafford and Emirates supremo's go head to head for Serie A talent.
Win the Club Shirt Of Your Choice Simply by Speaking Your Mind!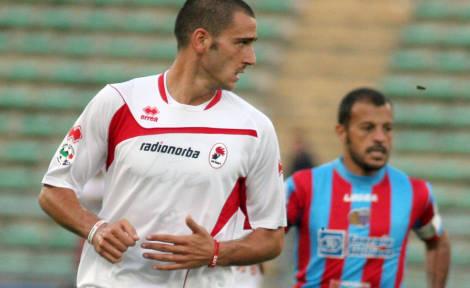 Sir Alex Ferguson and Arsene Wenger are set to go head to head for the services of up and coming Italian centre back Leonardo Bonucci. The 22 year old Bari centre back has been the subject of much interest from some of Europe's elite clubs but Italian reports state that Arsenal and Man United are leading the chase to snap up the giant defender.
After failing to impress during his three years at Inter Milan, after arriving at the San Siro from minnows Viterbese, Bonucci was offloaded to lowly Bari where the youngster has gone from strength to strength this season helping the newly promoted side to mid table.
Having received his first international cap in February, having never been capped at any level for the Italian national team, the 6 foot 3 centre back looks likely to leave the Stadio San Nicola in order to fulfill his potential. Arsenal's need for long term defensive options is arguably greater than Old Trafford's given that Wenger has a raft of centre backs aged 30 and above.
Bari are unlikely to allow Bonucci to leave without getting a decent price for their prized asset and a valuation of around £10m has apparently been placed on the promising talent's head.
Join Our Facebook Fan Page for the Latest News/Rumours/Forums/Videos/WAGS/Funny Stuff/Features!