Wally with a brolly rumoured to be set to take over at Upton Park!
Win the Club Shirt Of Your Choice Simply by Speaking Your Mind!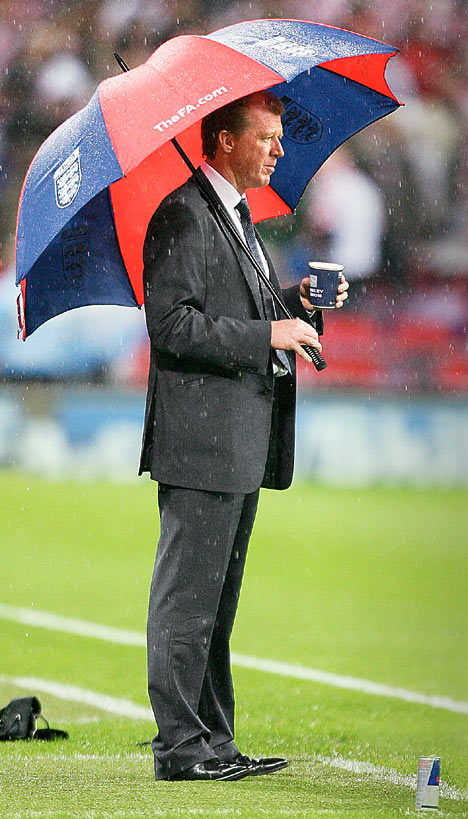 Gianfranco Zola will be sacked at the end of West Ham's increasingly desperate bid to avoid relegation from the Barclays Premier League.
The under-pressure manager saw his struggling side's survival hopes suffer another setback at Anfield last night, apparently unaware that his fate had already been sealed.
Alarmed at the way West Ham folded at key moments, such as the recent home game with Wolves, Upton Park bosses have decided a change is needed at the end of the season.
Sportsmail understands Zola has yet to be informed, though the news will not come as a surprise after his team put up little resistance and were undone by Yossi Benayoun, David Ngog and an own goal by Robert Green.
West Ham want former England coach Steve McClaren to take over but will have to stay up to stand any chance of landing him after the way his reputation has been restored at FC Twente. (Daily Mail)
Now there is no doubt that Steve McClaren has done a lot to be proud of at FC Twente, taking the unfashionable Dutch side to second spot last term and currently holding off Ajax for the Eredivisie crown this term, but no one will forget his poor performance as England boss. Nor will they forget that Umbrella (where is that Umbrella now do you think?).
If West Ham do indeed sack Gianfranco Zola it would in my view be a very short sighted decision and one that would only be compounded by a poor decision to bring in McClaren who has a pretty patchy managerial record overall to say the least.
Would West Ham fans welcome such an appointment?
Join Our Facebook Fan Page for the Latest News/Rumours/Forums/Videos/WAGS/Funny Stuff/Features!